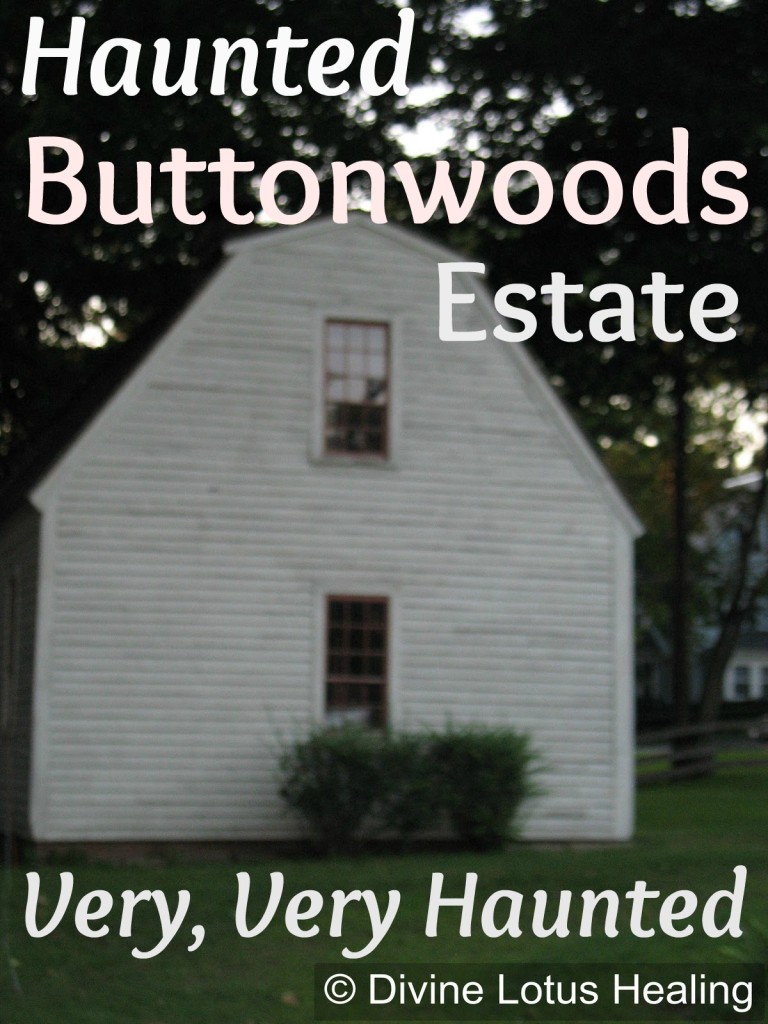 The VERY Haunted Buttonwoods Estate
Buttonwoods Estate is VERY #haunted. This is a true #ghoststory.
Click To Tweet
Buttonwoods Estate is located in Haverhill, MA, USA and has a long and reputed history for its cultural place in our New England story.  It is also haunted.
This site is an English settlement that sits on Native American burial lands, those of the Pennacook Nation.  There are several buildings on the Estate.  The main house, which has been designated a National Heritage Site and turned into a museum housing a fine collection of artifacts dating back to the colonial period, is open to the public for browsing. Another house on the property is the John Ward House (photo above)  built in 1710.  This is where most of my haunting tale takes place.  (I did experience the presence of Native Americans on the land outside the buildings and they were not pleased that people were walking all over their sacred ground.  In fact, when alive, the Pentucket tribe, an offshoot of the larger Penacook Nation, took Hannah Dustin, her mid-wife, and infant daughter captive on a death march which ended in Hannah gruelingly scalping 10 of her captors- but that is another story for another time!)
John Ward was the master of this house; with a wife and children.  He was prone to drink and a nasty temperament, known as a bully in the community.  I had the opportunity to attend a ghost hunt at this location in 2008 with psychic mediums David Wells, most notably from Travel Channel's Most Haunted and Gavin Cromwell from Wales.
This is a photo of me and David Wells at 1:00 in the morning. We look so tired! He was so nice to take a photo with me after I worked up the courage to ask him 🙂

This is a photo of me and Gavin Cromwell at about 10pm. Notice our less tired smiles! Gavin is SUPER upbeat and very nice!

Things started slowly as we walked into the main door of the two story home. Entering the wood planked kitchen with low beamed ceiling, we had the choice to go left past the main fireplace, roughly set as a cook station and heat center for the dwelling, into the formal dining room or up the stairs to the bedroom. We chose to go up. As we were walking up I got the distinct impression we were not welcomed. The hairs on the back of my neck stood up. I got goose bumps even though I was wearing a jacket. The man walking with me (who shall for the sake of politeness remain anonymous) said he felt someone push him backwards as he was ascending. I snapped this photograph:
Notice the circled orb at his feet. As we walked into the tiny bedroom that used to be John Ward's, I psychically saw him standing behind the man whom he had pushed on the stairs. I snapped another photo. Notice the orb (circled) on the stairs, following the man into the bedroom: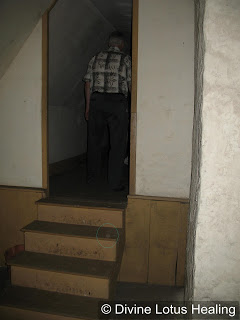 As we entered the bedroom, I psychically saw John Ward standing against the far wall, looking out the window.  He had his hands in the pockets of his long sleeved vest.  He was smoking a pipe and had some kind of dark, course trousers on with tights and buckle shoes.  He was wearing a simple brimmed hat that was dirty and creased with age.  He was also extremely angry at us being there; not only in his house but in his bedroom.
He turned to us and with a look of rage in his eyes began yelling and cursing a stream of such fowl words that I dare not repeat them here!  He was also clear to point out that women should not be wearing pants (I was wearing jeans) and that a woman's place was sitting by the hearth cooking and if I didn't leave he'd beat me to put me in my place.
Well!  This was the first time I'd ever encountered a ghost who threatened me like this.  I wasn't scared because somehow I had the sense that he was all talk and no bite.  However, when I shared what I was picking up with the group, we determined that we should leave the room and head down to the dining room on the first floor.
As we entered this room it got very cold.  We could see our breath puffing in front of us even though it was a mild 55 degrees and dusk outside.  We sat in the chairs around the perimeter of the dining table and just waited and watched.  It first seemed as if nothing was happening.  Then, someone noticed the fake fruit on the table was rolling slowly away from them.  At the same time Gavin saw John's face in the mirror on the wall.  (Mirrors are great scrying tools!) Unfortunately, I didn't get a picture or video of these two things happening; they were too quick!
Psychically, I started picking up that Mr. Ward was again taking up his verbal abuse, but this time it was directed at Gavin.  He promised to harm him physically if Gavin did not leave and he was quite agitated that we had entered his space without being welcomed.  After hearing him rant for a while, it was decided that it would be best to send David in later in the night to see if the experiences would be as strong.
As I headed out to explore other parts of the estate for the evening, I was glad to leave Mr. John Ward behind, trapped in his own chauvinistic world, an era gone by, pining after his once community greatness.  I do not doubt for a second that if you were to visit, you would encounter this brash man yourself!