Sneak Peek: My Home Office Redo
Recently I had a revelation.
My home office space no longer fit my needs.
It was nice. And it was functional. But if I was honest with myself, the office didn't truly suit my needs.
I used to have this IKEA cabinet that faced the wall. It was tall and fit all my things inside, behind closed doors. But the desk was a drop down table top and I faced into it, rather than looking out into the room.
With the essential oils part of my business taking up more space (hooray!), I find myself doing more videos all the time. I shoot videos for my team calls, for continuing education and for mentoring all the time but I was always shooting into the sunny windows at my back!
So, I bought new furniture: desk, chair, side table, office organizing system and artwork.
Let's take a tour of it all, shall we?
(This post contains affiliate links. If you buy something, I will earn a small commission at no cost to you.)
Behind the Desk
I lucked out BIG TIME because Pottery Barn had this major sale on their office organizing system. They are getting rid of all their organizing products from this particular line in the stores and only selling it online so everything was on HUGE CLEARANCE when I drove to the shop near me. Such divine timing! I've been wanting this system for YEARS and it's always been out of my budget!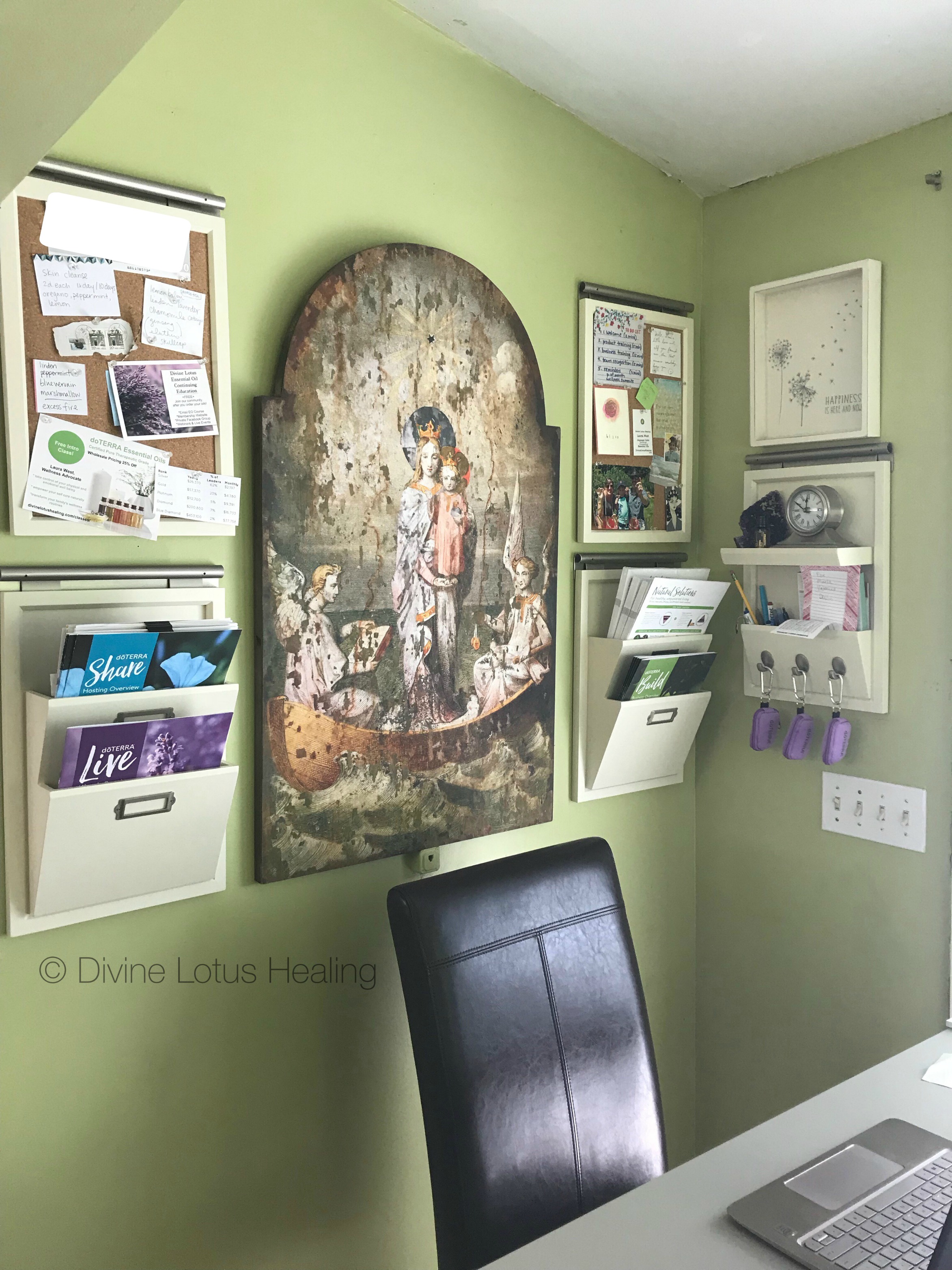 I purchased 2 cork boards, 2 letter holders and one organizer – 5 items (plus the hardware for a total of 10 items) all for the cost of what one item plus one set of hardware would normally cost!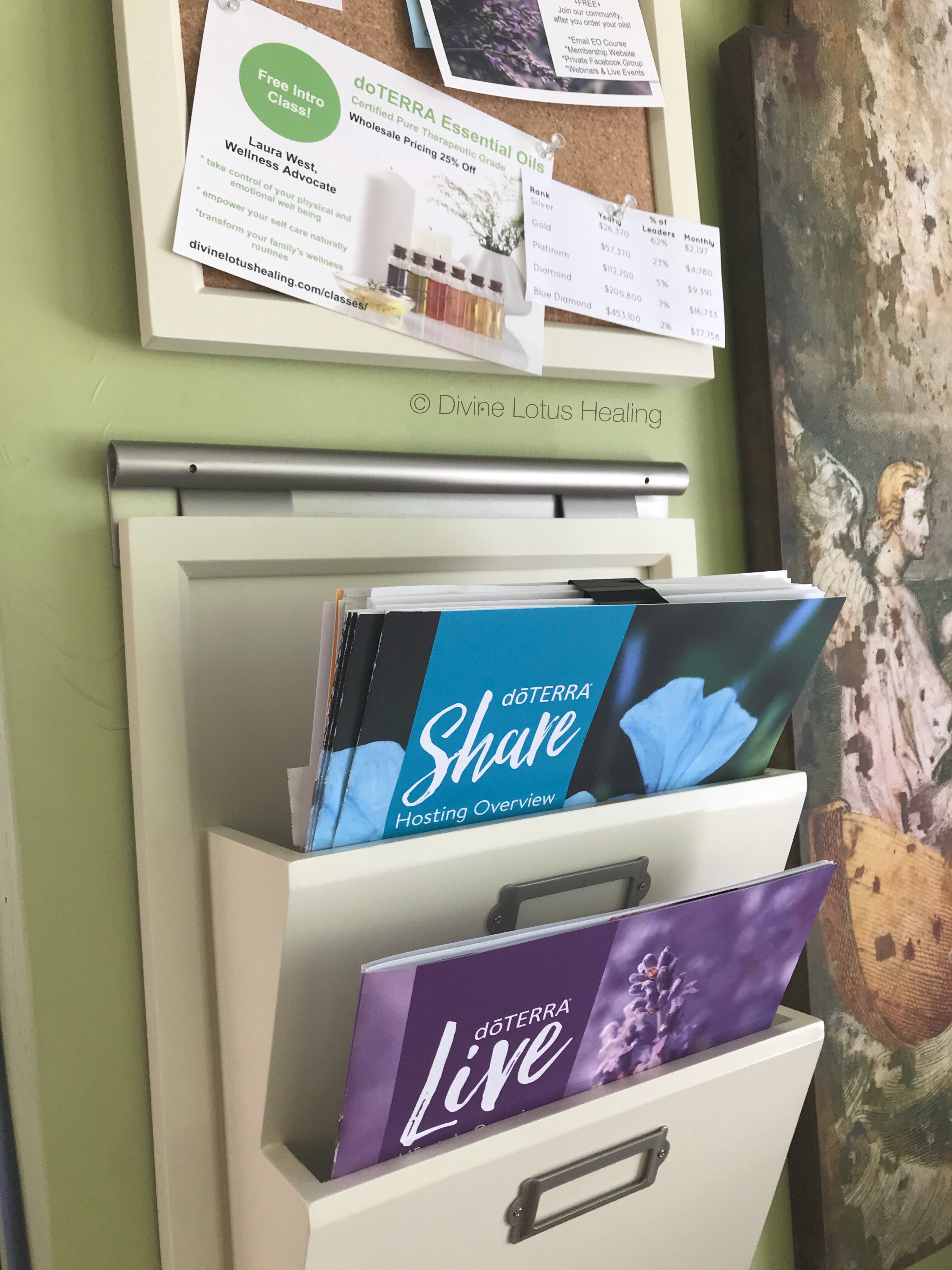 On my cork boards are a mix of things:
doTERRA inspiration: my first paycheck, the salary scale, my team's promo cards, some blends and recipes
Personal items: family holiday card, my business card, my friend Amanda Atkins' business card (she illustrated my Reiki manuals! #swoon), a photo of the beach where I grew up, some quotes
In the letter holders there are several of the doTERRA guides I give out and use all the time. And as a bonus, my iPad fits nicely behind them all so I can tuck it away when I'm not using it! #clutterfree
The picture quote "Happiness is Here and Now" is one of my favorite things in the room at the moment. I often need to remind myself that my life is blessed even with stress and that I'm ultimately living a lifestyle of grace, peace and happiness! The little things can bog me down, so when I found this particular picture quote at Marshall's I knew it had to come home with me!
Don't you just love the doTERRA keychains on the hooks? Don't tell me I'm the only one who's a sucker for cute organization! 🙂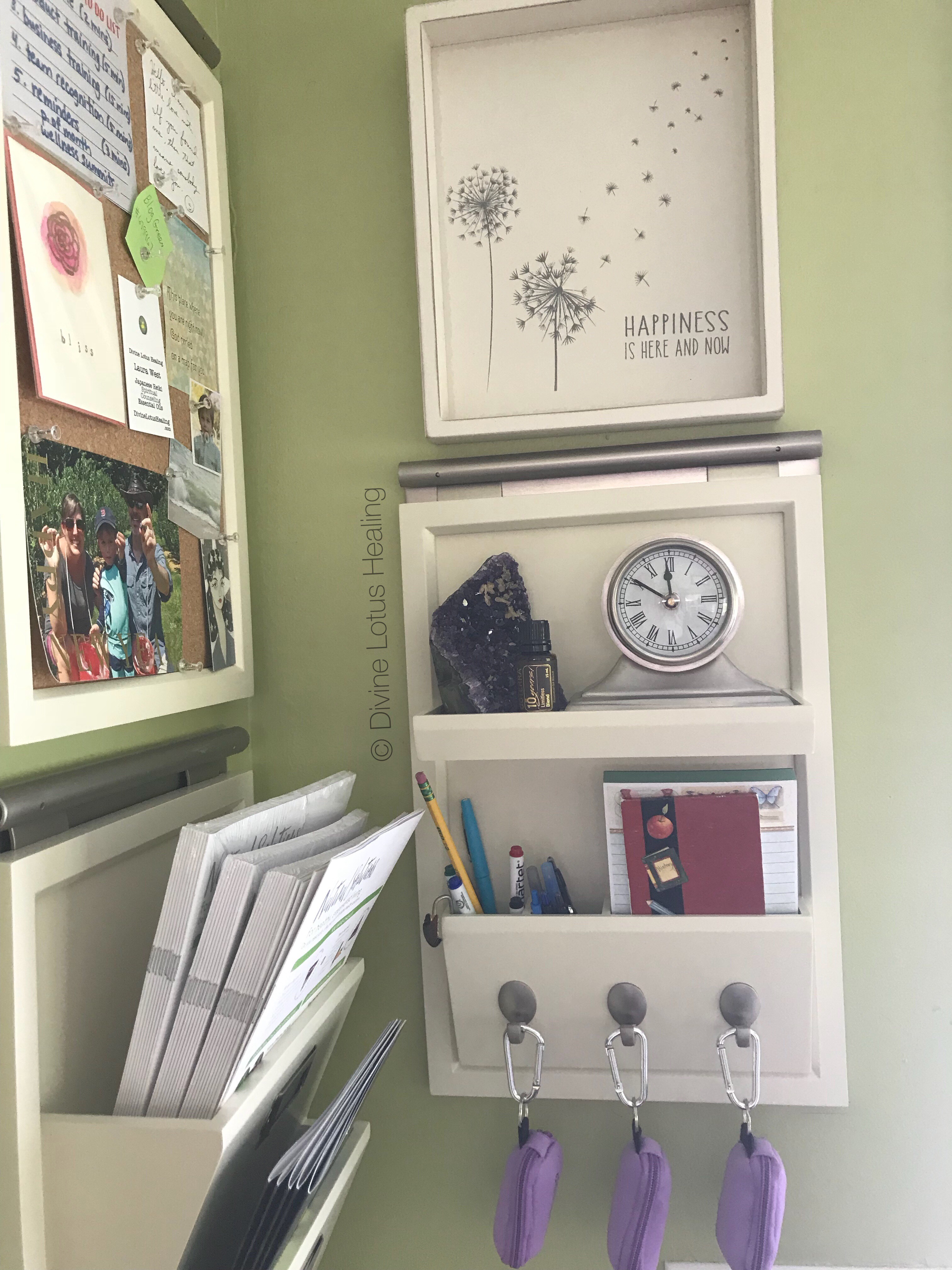 As many of you know, I work with angels when I channel. I also work (on a personal level) with Mother Mary. So, when I found this panel art of them both on Wayfair or Joss and Main or someplace like that, I jumped at the opportunity to have them on my wall. Now, when I make videos, they are behind me and it feels like a blessing!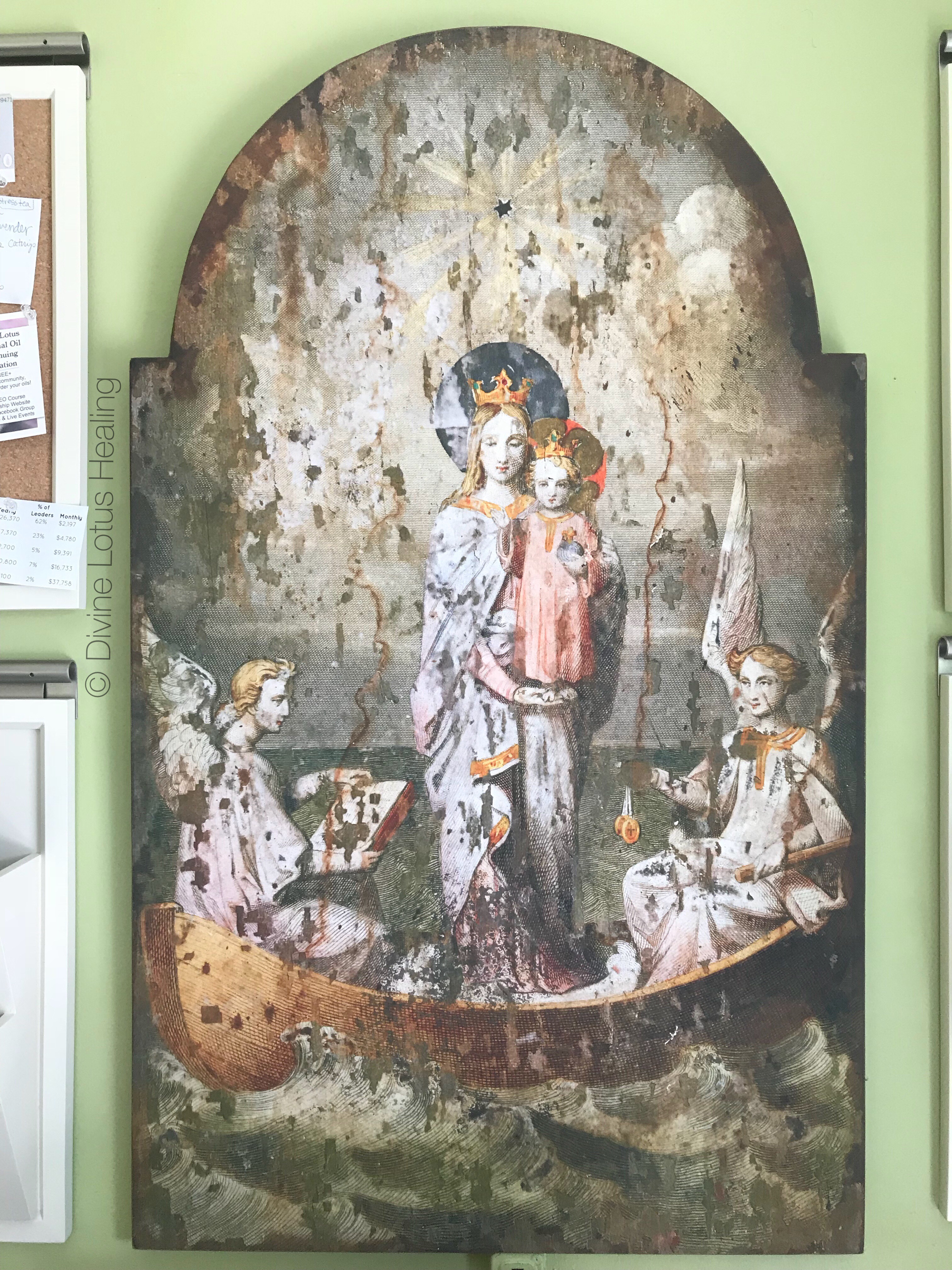 The Desk
I love this desk. It's the Marotta Writing Office Desk (in White)
I love how it is open on the bottom, helping to create light and expansiveness in my small office space.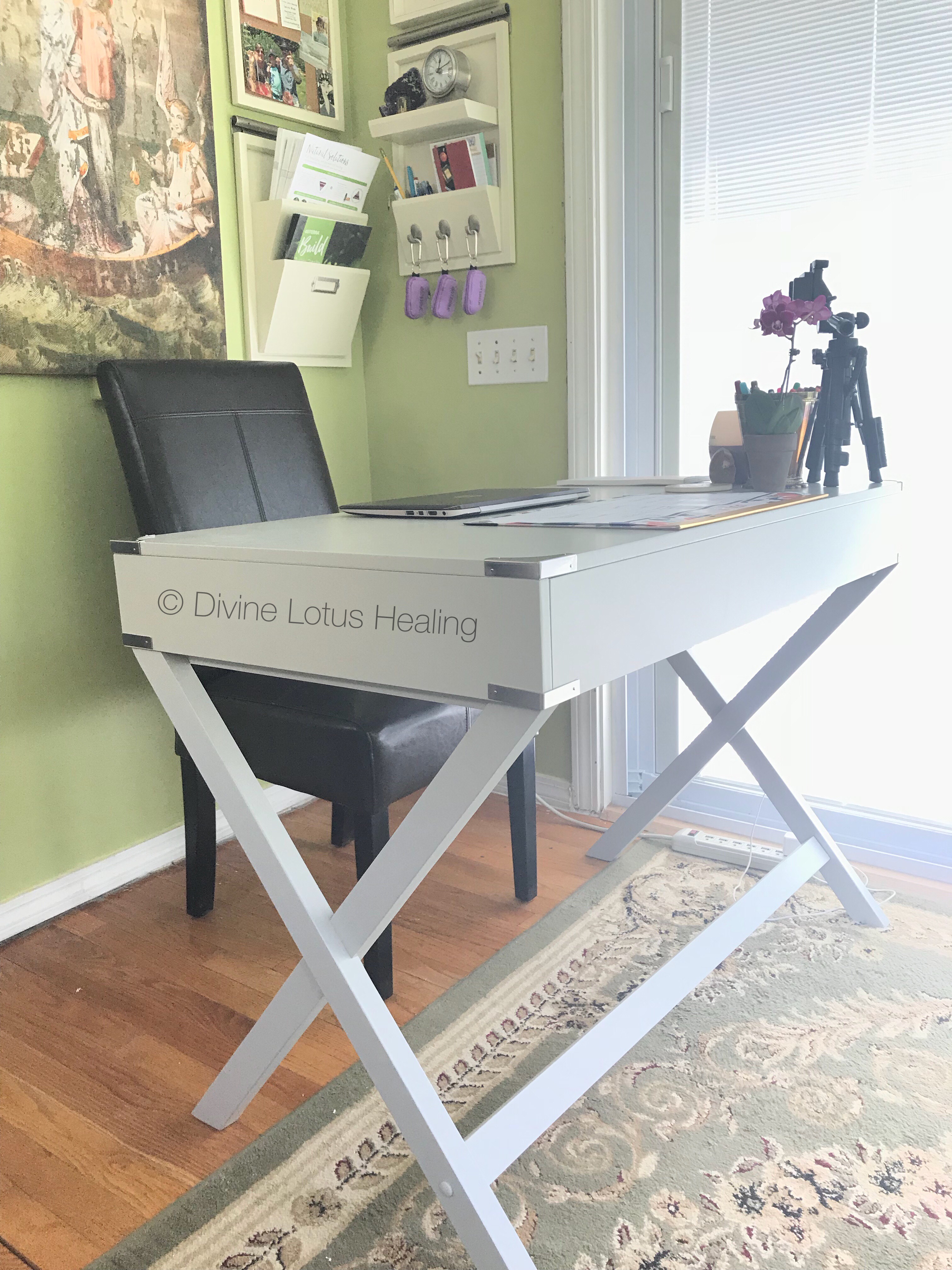 This desk has two pull handle drawers and silver accents. Silver and white is my jam. Silver, white, neutral (and blue + green) are my colors in my house.
And, I've got #deskgoals. I want to keep my desk space neat and clutter free. In my old desk, I could close the door and not see the piles. Ugh. Now there are no excuses! #nomorepiles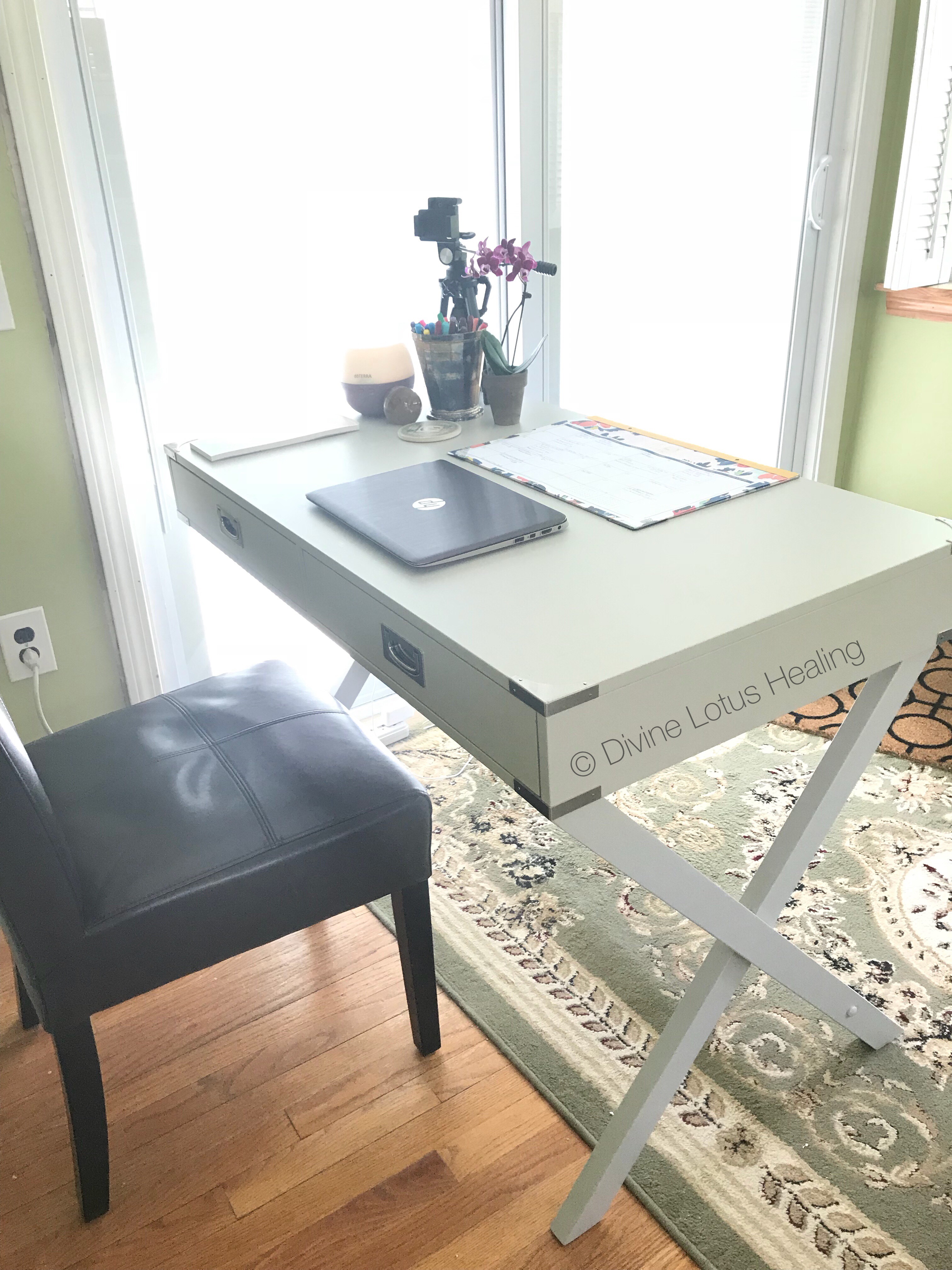 Sorry this lighting is off; I was taking photos in the bright sun of the day. I closed the blinds but still…
So, in the corner of my desk I've got my tarnished Mint Julep Cup
full of Paper Mate Flair Felt Tip Pens
, a cute little LIVE orchid (because in Feng Shui, live plants bring fresh energy), my doTERRA diffuser, a rutilated quartz crystal, decorative coaster and my RetiCAM Tabletop Tripod
for when I shoot videos on my cell phone.
The Cabinet
On the other side of the room, in the corner, is my channeling chair (where I sit to channel all my messages from the Council of Light) a small side table (with the white organizing charging station that I'm not sure I'm keeping) and the cabinet full of all my office supplies.
What do you think? Leave a comment below about the white charging station…. I need help! It's functional and it hides cords but it doesn't fit on that round table and I don't have anywhere else to put it… thoughts please!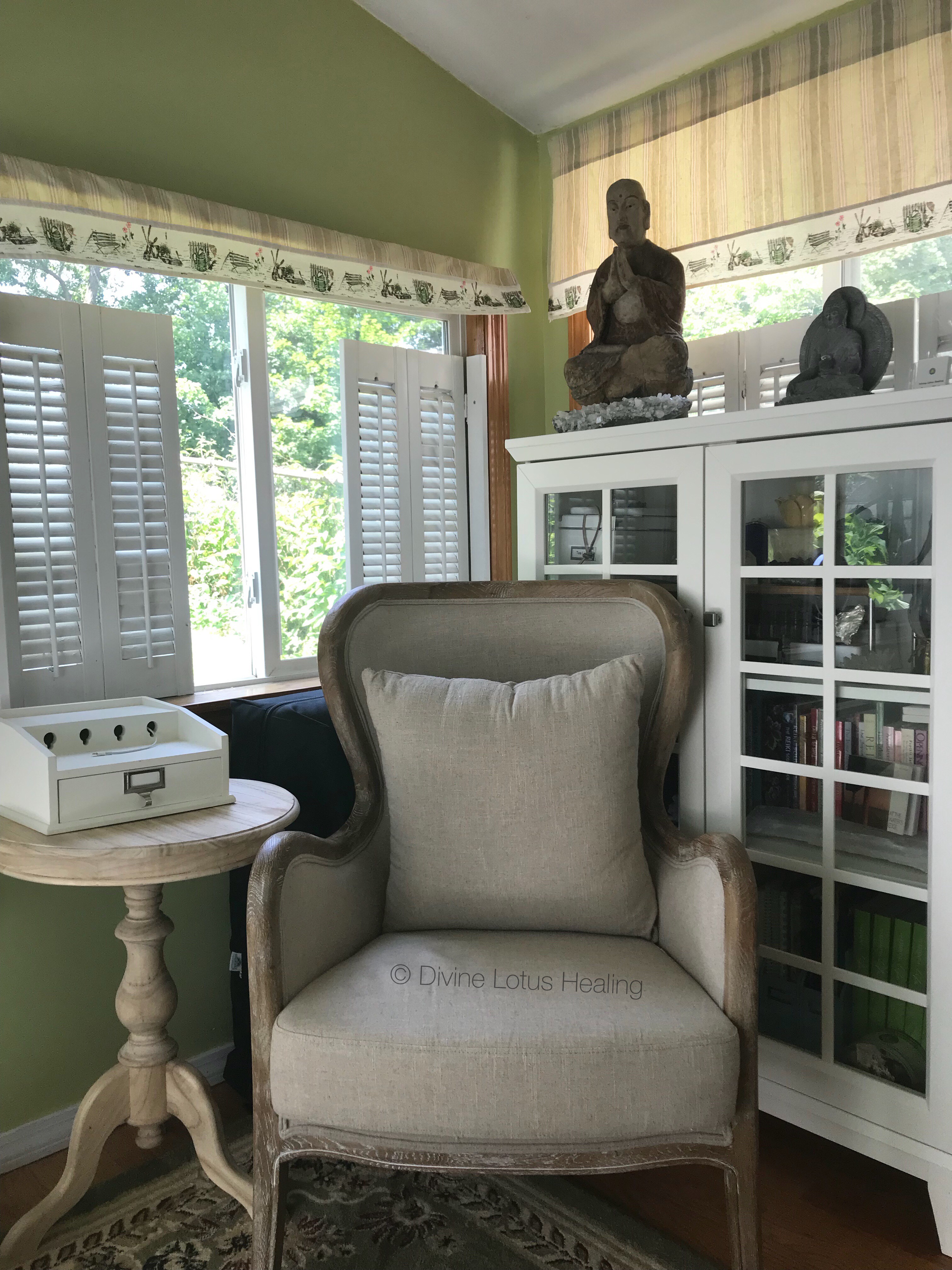 Inside this cabinet (from Crate & Barrel) is all the office supplies. I had to purge a TON from the old IKEA cabinet. I don't mind. Simple is best. I don't like a lot of stuff and I still feel like I have too much!
Let's break down the organization going on inside this cabinet…
TOP SHELF: Decorative stuff because it shows above and behind the chair and office supplies in white IKEA boxes.
MIDDLE SHELF: in the basket on the left – blank note paper pads and essential oil mini-reference booklets
in the middle: a Jizu statue and behind him my Bach Flower Remedies collection (I might not keep this collection, but for now, it's there)
on the right: teaching books I use for all my Reiki classes and psychic development classes and in front of them a selenite crystal
BOTTOM SHELF: on the left: in the blue archival boxes are mementos for my business (cards and notes, etc.) and my son's early years
in the baskets on the left: in one basket are more essential oil paper supplies (my team cards) and in the other basket is my podcasting microphone and all the cords that go along with it
in the middle: in the blue metal magazine holders are all the Reiki manuals I use for teaching
on the right: Essential Life Oil Books
and in the round box are paper based business receipts I collect all year to document at tax time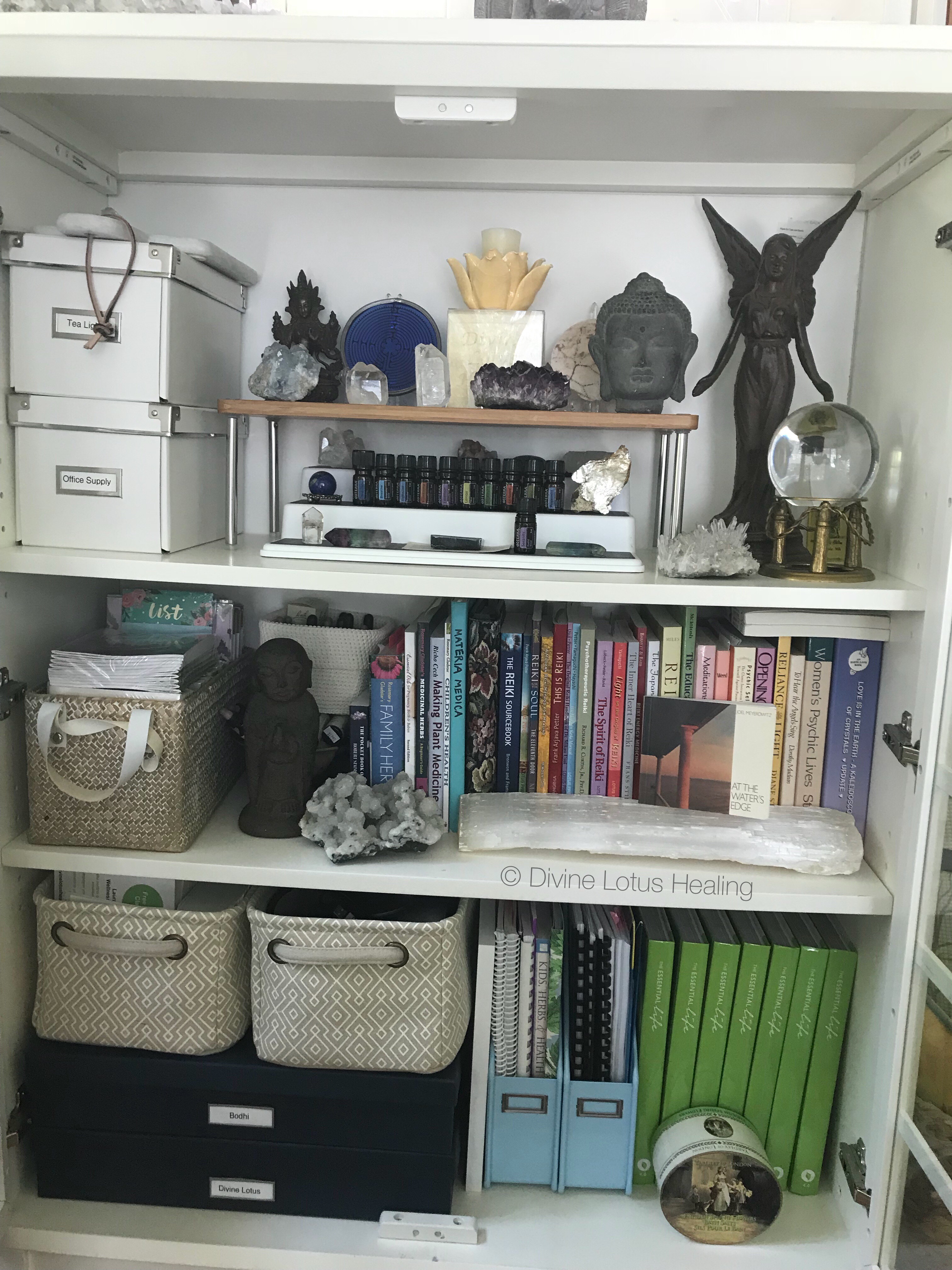 So there you have it. My home office redo! Tell me what you think, leave a comment!