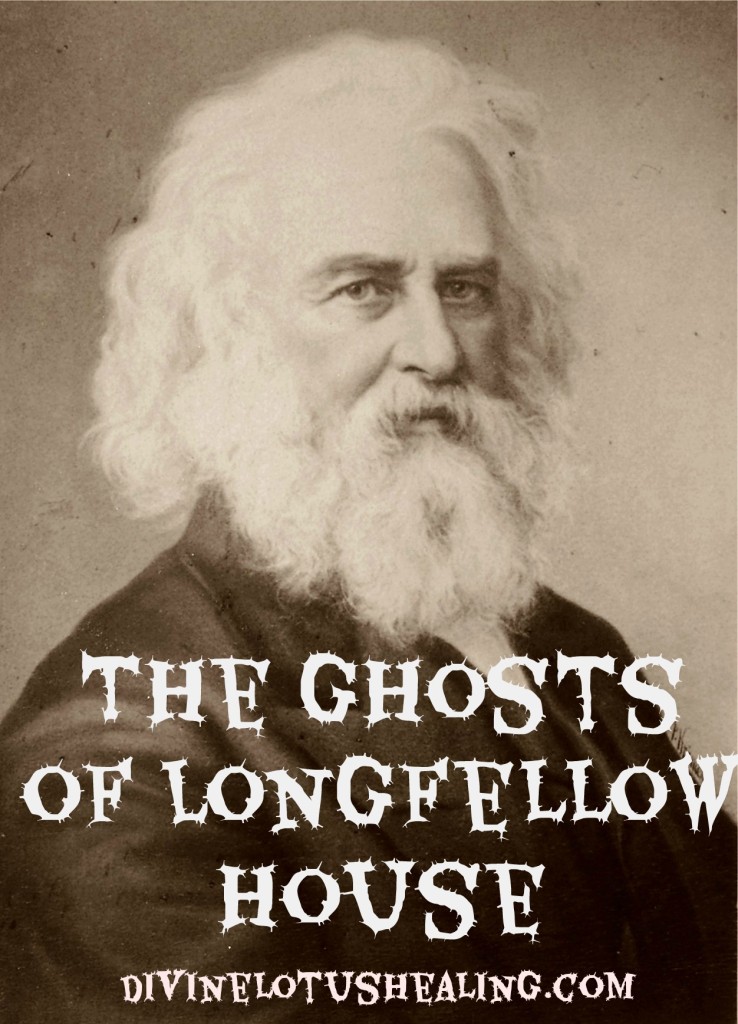 The Ghosts of Longfellow House
There are #ghosts at Longfellow House. #truestory
Click To Tweet
In New England, there are lots of buildings with energy and history. Sometimes, the spirits of years past like to visit their old haunts. This is one of those buildings. The ghosts of Longfellow House in Cambridge, MA come and go. I went to visit them one sunny, spring day with friends.
We entered around the back, through the servants quarters to where a modern day waiting room filled with books, memorabilia and tour guides awaits the visitor.  Our tour lasted about 45 minutes, maybe an hour, I can't quite remember, and was guided by a very knowledgeable National Parks Historical Tour Guide.  She took us through the first floor of the house that was filled with grand rooms chock full of a mix of Asian antiques and old heavy wooden furniture popular at the time Longfellow lived there.
I told our tour guide that I was a professional psychic and medium and asked her if she'd ever heard stories of the house being haunted.  She said several people, both staff and tour groups, had been touched in specific spots in the house, all on a birthday of someone in the family. And, several staff had gotten promotions or jobs or upgrades in their positions over the years, all on the birthdays of Longfellow family members.
Once or twice, she'd heard other tour guides tell stories about people on the tours asking, "who was that actress upstairs sitting on the bed? Her clothing looked so authentic!" Only to discover that the staff do not employ actors in period costume.
We saw a formal dining room, a formal sitting room, the kitchens, a ladies parlour, and then Henry Wadsworth Longfellow's study itself.  Here is where the ghosts begin to enter my story.
Immediately upon entering the room I got an overwhelming presence of men, not ladies- even though there were six of us out of a group of 10, in the room. Now, as most of you know, I'm a psychic medium in addition to being a Reiki Master, so when I go out and about I very often pick up energy in buildings.  This room was no different.  We spent a long time in this room because the tour guide had lots to tell us. I faded her out to background noise as I slowly turned in a circle absorbing the energy of the room. I was reading the memories of the room.  This was a man's room, full of cigar smoke, paper signing, men bustling to and fro, politics being spoken, theology being discussed, no dainty lady talk or tea and cake in here!
For some reason I was drawn to the circular mirror hanging over the fireplace.  This house has lots of mirrors all over the walls in every room. The rooms are large, with 20 foot plus ceilings in most of them, dark, rich wallpapers, and heavy drapes; all helping to create a gentle cool dusk in each room.  So, I imagine the mirrors were brought in to help lighten them up a bit.  With this mirror, I was drawn to it like no others in the house and I kept snapping photographs of it.
Now, there are two facts you must know before I continue with my account:
1. About mirrors and haunted houses: they are great at reflecting back to you the ghostly inhabitants of the house, so if you ever suspect a spirit is with you, ask for it to show itself in the mirror and snap a ton of photographs!
2. Long before Longfellow's family owned this home it was inhabited by General George Washington and his wife Martha as he fought for American Independence from England.  They didn't live in the home exclusively, just came for stays while he was in the North.  And, with them came lots of soldiers as the house was turned into a mini-headquarters for General Washington while he was in the region.  As a result, Longfellow's family was so proud of this heritage that there is a picture, statue, or document related to Washington as homage in almost every room of the house.
So, as I snapped a dozen or so photos of the mirror this is what it looked like in most of them, nothing special or out of the ordinary: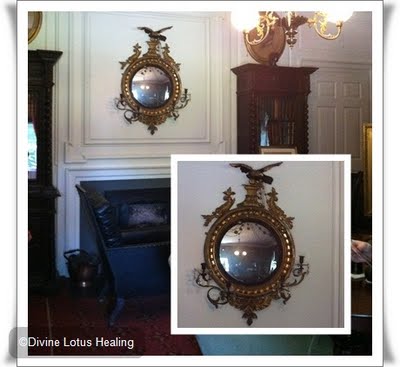 And then I snapped this one. (Please, if you are a de-bunker reading this post, I know all about pixellation of photographs and matrixing of the mind so don't bother commenting that that's what you think this photo is… remember, I'm a psychic medium and I communicate with dead people all the time!)
Notice the figure in the lower left corner of the mirror? I think it looks like a male smiling out at the camera, wearing a cap and uniform.  There may also be a dog in the lower left of his body, just peaking it's head out and looking directly into the camera, cocker spaniel maybe? (I'm not too good with dog breeds.)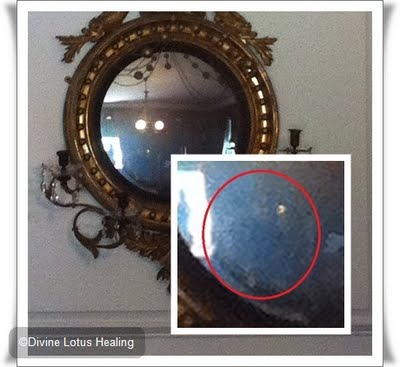 This soldier man seemed happy to be there. It felt as if he had a genuine love for the home and had happy memories of which he was content. He did not interact with me or anyone else on the tour, which signals that he is a residual haunting, or memory imprint, a ghost who's energy is imprinted on the room, with no consciousness attached. Some people describe it like a video tape playing back the memory to you.  If he had interacted with me, or anyone else on the tour, or with the things in the room, he would be described as a active visitation. But, alas, not to be in this case! We went on to look at the second floor bedrooms and my guess is soldiers weren't allowed up there because I didn't see or feel him in any other rooms in the home.
Have you ever seen a ghost or spirit? Share in the comments!