Crystal Reiki Session
First, let me say a big thank you to this client for letting me photo document her (Western  Reiki style) crystal Reiki session!  We were outside, in her yard, on an unusually beautiful summer day.  I don't normally hold sessions outside my office but this session was being done while I was traveling.  The fresh air and summer sunshine added an extra bonus to the experience!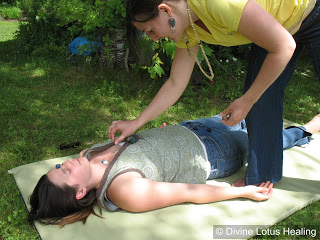 Placing the crystals on her chakra points; I use anywhere between 25 and 100 crystals on the body during a session.  There are standard crystals I place on each chakra point and then use my psychic/healing capacities to feel out which other crystals are needed around the body.
The laying on of hands, much like Reiki, where I transfer healing energy into each chakra point on the body while it is covered with crystals. The client is giving me feedback about what it feels like, which is why her mouth is open!
Getting close to the end of the session; I use crystal rods on both feet pulse points to regulate and balance the energy system.  Once they both are pulsing at the same rate, the session is nearly complete!
Ahhh… the client relaxes after the session for a few extra minutes before getting up!