How to Make a Reiki Master Class Binder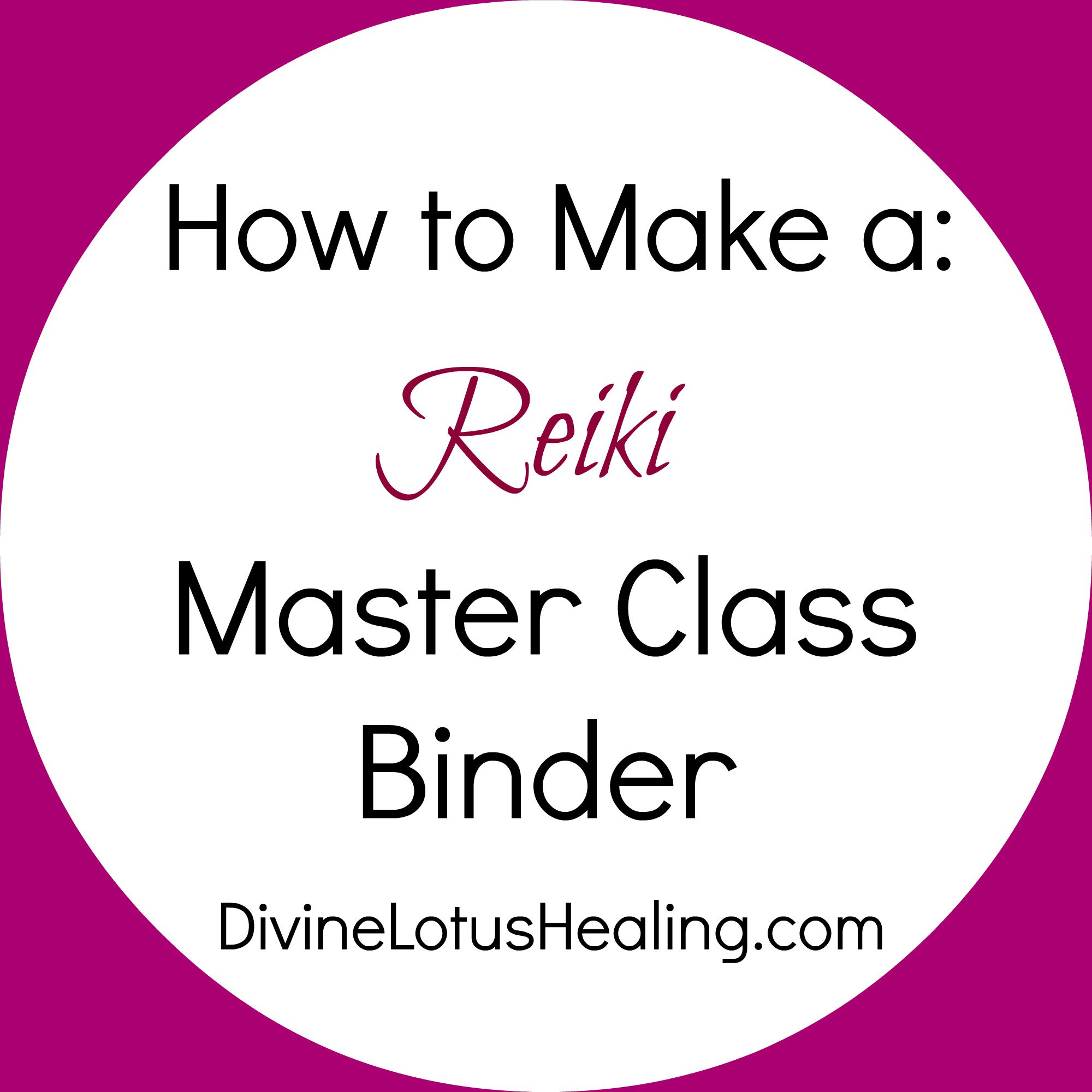 I thought it was time to show you some behind the scenes work around my office, specifically how I organize materials for the Reiki classes I teach. Each time I teach I constantly review and revise for the next time I teach that class again. It helps to keep things fresh for me as the teacher and provides ever more clear and organized material for the students.  This time around, when teaching Reiki Master level, I decided to make binders to hold all the course materials. I used to staple pages together and put them in pocket folders but there was just so much to hold, so I designed these binders. Below, here is a photo journey through the binder. Enjoy!
Stack of Binders
I always love when I go to a class or conference and they have labeled the side of the binder for me. When I get home, I can put it on the shelf and know exactly what is inside.
Binder Cover
This is where I put all my contact information for easy reference if a student needs to contact me after a class.
First Look
This is what the student sees upon opening the binder. On the left is a laminated page (symbols & names blurred out for protecting the sacredness of them) that I made for easy reference. When the students practice their attunements they can pull this page out holding all six symbols required for Master use. On the right is the course textbook I require my master students to read, under that is the Master Reiki Manual that we reference throughout the course and under that is the tabbed sections of the binder housing all the paperwork.
Course Textbook
This is the course textbook I require my master students to read over the course of the three months of class. We read multiple chapters in chunks between classes and have discussions during class about all the issues raised. If you are a manual therapist and have never read this classic, The Educated Heart by Nina McIntosh, I highly recommend it! It deals with topics such as how to set fees, how to deal with inappropriate clients, boundary issues, male/female client/practitioner dynamics and much more. My students always report that this book opens their eyes to a whole side of being a practitioner that they never thought of before.
UPDATE: Since learning Japanese Reiki several years ago, my course manual list has increased to include two more books. This is Reiki by Arjava Sensei (Petter) and Reiki, A Comprehensive Guide by Pamela Miles. It's a lot of reading, but the students get a great perspective on Reiki.
Reiki Master Manual
Since I am a member of the International Center for Reiki Training I am required to use the course manuals in each of the classes I teach. This master class manual covers Advanced Reiki Training and Master training but I break the two classes up and teach them separately. There is a smaller ART only manual that I use to teach that level, then students get the big all in one Master manual when they take Master class with me.
UPDATE: When I teach Japanese Reiki classes, this book is NOT used. Other Japanese text sources are used in its place.
Tabbed and Labeled Sections of Paperwork
I have four sections in my binders: Syllabus, Notes, Cheat Sheet and Articles.
The Syllabus
This is the first paperwork section in the binder. I teach this class over three months so it is important for us to have an outline of how the events will take place. I always preface this section with a talk about student needs coming first. The outline of the syllabus is a rough sketch and we may skip around depending on what the students need at any given time.
Notes Section
Blank page for note taking. BTW – I just love a blank note page, don't you? To see it blank is to see all the possibilities for learning I'm about to record! 🙂
Cheat Sheet
This is a stapled pack I made as an easy reference guide when students are practicing their attunements (symbols and names have been blurred to protect the sacredness of them). Each page has all the steps to each attunement at a glance. Students tell me they can't live without this pack!
Articles Section
Over the years I have compiled many articles relating to different aspects of Reiki and I like to share them in this section of the binder with the master students. I always make sure to note the author, how to contact them, and where I found the article should they want to learn more (and also to cover any potential copyright infringement issues).
So there you have it. My Reiki Master Class Binder! I love it because it is organized, labeled and all in one place for the students. What about you? Do you teach using a binder? Have you attended classes where you were given a binder? Please share your thoughts!