Red Clover (Trifolium pratense)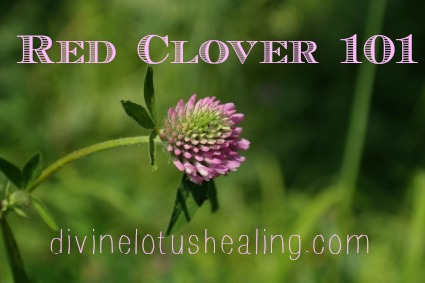 Common Names:
Wild clover
cleaver grass
marl grass
cow grass
trefoil
purple clover
Parts Used: Flowering tops and sometimes the leaves
Actions:
depurative
detergent
alterative
mild stimulant
detoxifier
Uses:
warm tea is soothing to the nerves
eases chronic chest issues (coughs, colds, bronchitis)
rich in minerals (most notably: calcium, nitrogen, iron)
good for all skin conditions as a detoxifier
blood purifier
anti-tumor formula
treats children's asthma
mild expectorant
Safety:
Red clover is a natural blood thinner due to the compound called coumarin that it carries. People with blood clotting disorders (hemophilia, thin blood, etc.) should not use it. For women who are pregnant, check with your healthcare provider – if she says it's okay to take aspirin (a blood thinner) you may feel comfortable using red clover on occasion. I have come across no research that says it is harmful to pregnant women.
Resources:
Gladstar, R. (2001) Family Herbal, A Guide to Living Life with Energy, Health, and Vitality. North Adams, MA: Storey Books.
Kloss, J. (2008) Healthful Herbs from Back to Eden. San Diego, CA: Thunder Bay Press.
Mavor, S. & White L. B. (1998) Kids, Herbs, Health: A Parents' Guide to Natural Remedies.Loveland, CO: Interweave Press.
Disclaimer:
All herbal information offered through Divine Lotus Healing is meant for education, information and reference instruction only. Please seek the guidance of a healthcare professional before treating yourself medicinally with herbs.