The Essential Oils My Husband Brought on His Recent Trip & Why
[bctt tweet="Use these #essentialoils the next time you #travel to support your immune system, emotions & muscles. #smart #doterra" via="no"]
My husband recently had the good fortune to travel out of state to attend a wedding. It was an adults only event, so I enjoyed a weekend home with my son, doing fun Mommy / Son things! My husband had a list of essential oils he wanted to bring and for good reason; climate changes, seasonal and environmental elements and food overindulgence were all on his mind!
PODCAST
Here is what he packed:
TriEase

This trio of oils comes in one convenient softgel form. It's useful to have on hand when traveling, attending outdoor events, or when seasonal or environmental elements are particularly high. TriEase Softgels can be consumed safely on a daily basis during times of seasonal discomfort to promote clear breathing and overall respiratory health.*
It contains the three key oils of:
Lemon Peel: cleansing to the body's systems and frequently used for respiratory discomfort*
Lavender Flower: renowned for its calming and balancing effects*
Peppermint Plant: promotes clear breathing and healthy respiratory function*
My husband was traveling from cold, snowy New England to a warm, sunny, tropical climate and wanted to be sure he could support his respiratory system as it experienced such an abrupt change in climate. He took one softgel every day to support his respiratory system.
On Guard Beadlets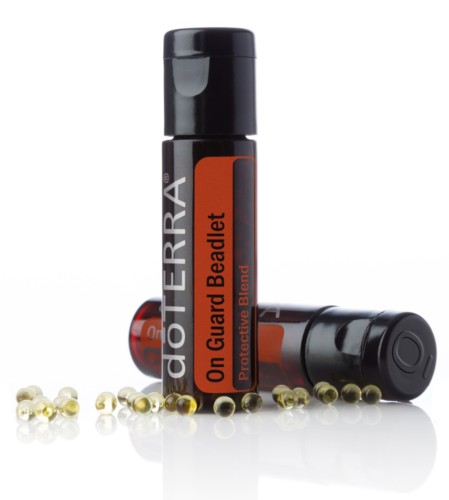 doTERRA On Guard Beadlets are an easy and convenient way to obtain the immune-boosting benefits of doTERRA On Guard Essential Oil Blend.* And, they are perfect for traveling and being on-the-go.
The doTERRA On Guard Blend contains the key oils of:
Wild Orange, Clove Bud, Cinnamon Bark, Eucalyptus & Rosemary
Shaking hands and rubbing elbows with so many people at the wedding meant he wanted to support his immune system good and plenty. He took two beadlets everyday of the trip to support his immune system.
On Guard Protecting Throat Drops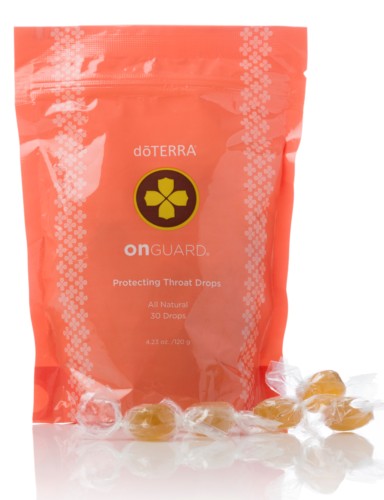 These throat drops contain the same great immune supporting benefits that the beadlets contain. In fact, the throat drops have the exact same essential oils!
The On Guard throat drops are beneficial because they:
Help calm and soothe dry, scratchy throats
Help strengthen the body's defenses
Proprietary doTERRA On Guard Throat Drop blend of CPTG Certified Pure Therapeutic Grade esssential oils including Wild Orange, Clove, Cinnamon, Eucalyptus, Rosemary, and Myrrh in the convenience of an individually-wrapped drop
Are blended in a sweet base of organic cane sugar and organic brown rice syrup, with no added artificial flavors or colors
My husband wanted to be sure he could soothe his throat on the long airplane flight. Drinking water was also a good option but it meant he'd be in the bathroom a lot, so sucking on a lozenge was a better option for him. He used two during both his flight away and flight home (for a total of four). Not to mention, he was able to support his immune system inside that dry, stale, recycled airplane air. #CoverYourSneeeze #yuck
Peppermint Beadlets

Most people know about the soothing benefits that peppermint can bring to an overworked digestive system. And, it freshens breath as well. My husband chose to bring the beadlet form of peppermint oil for easy use. No drops of oil at the wedding dinner table for him, just a quick tap of three into his palm and then sipped down with his sparkling water while nobody was the wiser sitting around him.
The benefits of Peppermint in beadlet form include:
Dissolve one beadlet in mouth to freshen breath.
Take after meals to promote oral health and digestion.*
Have a bottle on hand when traveling to ease occasional stomach upset, nausea, and motion sickness.*
Deep Blue + Frankincense Roller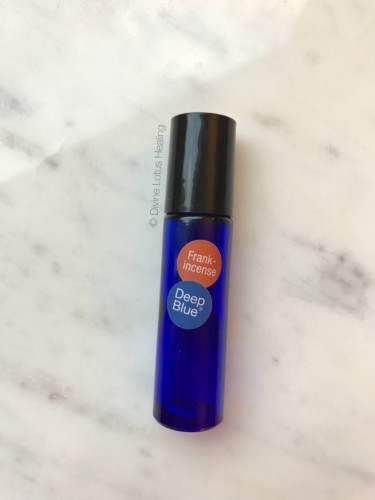 Deep Blue and frankincense as a combo are great for supporting muscles. doTERRA Deep Blue Soothing Blend is formulated to soothe and cool and is an enriched blend of oils perfect for a massage after a long day or an intense workout. In my husband's case, it was an intense round of snow blowing in our driveway!
Deep Blue Soothing Blend contains:
Wintergreen, Camphor, Peppermint, Ylang Ylang, Helichrysum, Blue Tansy, Blue Chamomile, and Osmanthus which are a great combo for soothing and supporting muscles.
Frankincense has soothing and beautifying properties that are used to rejuvenate skin. I added some to the Deep Blue oil to give extra support to my husband's tired muscles. Nobody likes to be dancing the night away at a wedding with tired snow blowing muscles, right?
Balance + Serenity Roller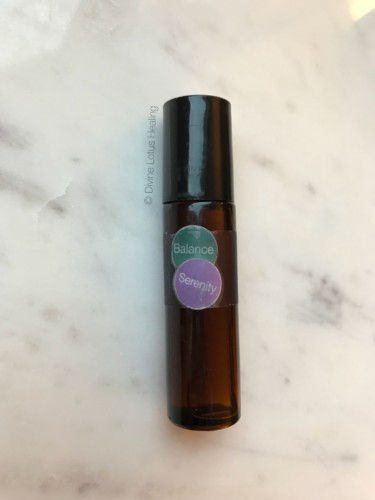 This is a blend that my husband uses almost daily, carrying it with him in his oil bag to work (hence the tape on the stickers, so they don't rub off). It is great for supporting calm emotions; balancing and providing serenity during times of stress. #LifeHappens #OilsCanHelp
Balance
As doTERRA's grounding blend, it promotes tranquility while bringing harmony to the mind and body, and balance to the emotions. The warm, woody aroma of dōTERRA Balance Grounding Blend creates a sense of calm and well-being.
This blend includes the oils of:
Spruce, Ho Wood, Frankincense, Blue Tansy, and Blue Chamomile with Fractionated Coconut Oil to offer an enticing fragrance that promotes tranquility and relaxation.
Serenity
This perfectly balanced, tranquil blend can be felt immediately, transporting the user to a state of blissful repose. doTERRA Serenity combines essential oils renowned for their ability to lessen feelings of tension and calm emotions, and support a restful sleep when used aromatically.
The oils in this blend include:
Lavender Flower, Cedarwood, Ho Wood Leaf, Ylang Ylang Flower, Marjoram Leaf, Roman Chamomile Flower, Vetiver Root, Vanilla Bean Absolute, Hawaiian Sandalwood Wood
My husband wanted to be sure he was relaxed during his trip; flying, traveling away from home, staying with various family members, staying up late on the night of the wedding, sleeping in a different bed, could have meant a long and strenuous trip. But thankfully, his emotions were supported by this blend!
*These statements have not been evaluated by the Food and Drug Administration. This product is not intended to diagnose, treat, cure, or prevent any disease.
What questions do you have about using these oils? Drop me a line in the comments!
_____________________
Love this episode of the Divine Lotus Healing Podcast?
Support us by telling your friends & sharing online!
Subscribe & leave a review: PODCAST: iTunes | VLOG: YouTube | POSTS: Instagram
____________________
More ways to connect with me: