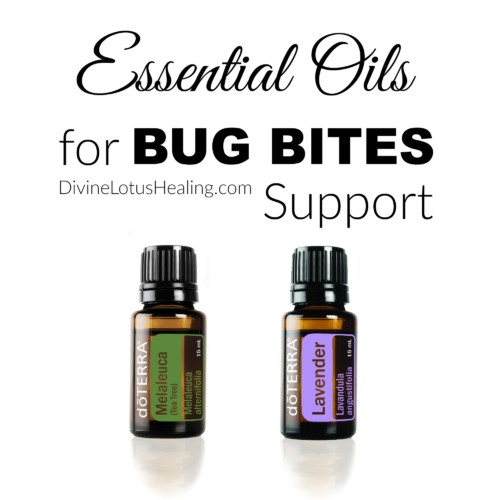 Essential Oils for Bug Bites Support
One of my greatest joys is sitting outside in the cool evening of summer enjoying family, friends and conversation. Along with this comes bug bites, which is one of my greatest annoyances. They seem to love me.
Just last weekend while I was at Kripalu Center for Yoga and Health, my two friends were barely touched, while I on the other hand was a feast for sore eyes. The bugs managed to bite me through my yoga pants for crying out loud! And once a long time ago, they even managed to bite my knee through my jeans.
JEANS!
By the way, did you know? Only female mosquitoes bite because they need to feed on blood to produce and lay their eggs. (source) And, they are sensitive to smell. If you have been working out and are sweaty they like your pheromones. Or if you drink a beer, they like the scent you give off. (source) Yuck!
So, to combat this I try to layer up. I also use doTERRA's TerraShield spray. It's a great natural repellent that smells slightly like vanilla mixed with other woodsy scents.
But when I don't have this on hand, I use the two oils of melaleuca and lavender to treat the bites afterwards and they really help to ease the itching and swelling!
Many studies have been done on the use of melaleuca, also known as tea tree oil, as an anti-inflammatory. Interestingly, the Rural Industry Research and Development Corporation in Australia notes in this study the fact that it is important to use a melaleuca oil with a high Terpinen-4-ol content, the main active component against inflammation. doTERRA essential oil is sourced from Australia, with some of the highest concentrations of oil potency in the world. Lavender has a whole range of uses and in this case it's an anti-inflammatory and antibacterial properties make it a great addition to support the relief from bug bites.
Original Recipe
Melaleuca
One drop, right on each of the bug bites, rubbed in
Lavender
One drop, right on each of the bug bites, rubbed in (after the melaleuca)
4 – 5 times a day, until the itching and swelling ease
Sensitive Skin Recipe
Place a few drops of fractionated coconut oil in the palm of your hand. Mix in two to three drops of melaleuca and lavender oil and stir it around with your finger.
Rub a bit of the mixture over each of the bug bites.
Do this 4 – 5 times a day, until the itching and swelling ease
Can you believe it's that easy? Please leave a comment and share your experience with using these two essential oils for bug bites!
_____________________
Love this episode of the Divine Lotus Healing Podcast?
Support us by telling your friends & sharing online!
Subscribe & leave a review: PODCAST: iTunes | VLOG: YouTube | POSTS: Instagram
____________________
More ways to connect with me: