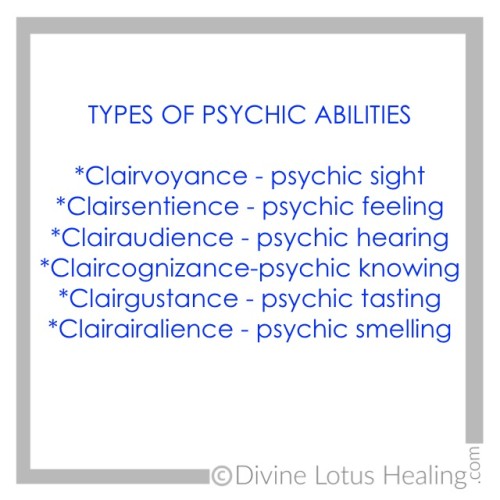 Types of Psychic Abilities
There are several different types of psychic abilities.
The four main types of psychic abilities are:
Clairvoyant– psychic sight
Clairsentient– psychic feeling
Clairaudient– psychic hearing
Claircognizant– psychic knowing or intuition
You have psychic abilities. Which ones do you use most?
Click To Tweet
Everyone uses these types of psychic abilities. Some people have tapped in and are conscious of the fact that they are using their sixth sense, others have yet to awaken or practice if they so choose.
Predominant psychic ability use can fluctuate over time. One psychic ability type may be used more at one period in a person's life, then change to a completely different ability. Conversely, more than one psychic ability can be open at the same time and can stay open for a lifetime.
With meditation and continued practice in opening, everyone can achieve active psychic  ability use.
Other types of psychic abilities include:
Clairgustance– "clear tasting", being aware of tastes without putting anything physically in the mouth
Clairalience– "clear smelling", sensitive people can smell the odor of the person who is not on the earth plane
I'm curious to know, what types of psychic abilities do you think you have? Please share in the comments!