How to Practice a Reiki Self Cleanse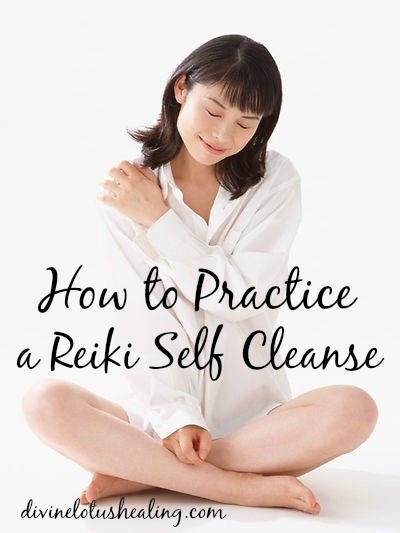 LISTEN AS A PODCAST HERE ON THE BLOG:
LISTEN TO THE PODCAST IN iTUNES (While there, please be sure to leave a 5 star rating so others can find the podcast easily!):
READ AS A BLOG POST:
I used to teach Western Usui Reiki exclusively. In the level one class, we learn how to practice a Reiki Self Cleanse for 21 days following the class. This technique was taught to me by my Western Reiki master teacher as a way to connect deeply with your own Reiki practice. It is not a technique originally taught by Usui Sensei, rather it is a modern day tool to add to your Reiki toolkit. The 21 day cleanse is especially beneficial for those who are newly Reiki attuned because it helps you to create a habit for your personal daily Reiki practice. People already attuned to Reiki and practicing for a while also find this technique beneficial because it acts like a touchstone or grounding base for their personal Reiki practice.
Empirical scientific studies demonstrate that habits can be formed in about 21 days, as first referenced in the self help book Psycho-Cybernetics by Maxwell Maltz. Habits are easier to create than they are to break. When newly attuned to Reiki it is beneficial to create the routine of giving yourself Reiki daily. In this way, you are more likely to continue with a self Reiki daily routine over time.
The 21 day Reiki cleanse is simple, can be done at any time of day and with no time limit.
The self #Reiki cleanse is simple, done at any time of day & with no time limit.
Click To Tweet
You can sit in a chair, stand up, or lie down. I recommend at least five minutes of practice but you can go as long as you feel guided by the Reiki. To begin simply call on the Reiki to flow through your hands. Practice a short
Gassho meditation
. When you have completed Gassho, place your hands on these parts of your body for as long as your hands feel guided to rest there:
crown/ top of head
third eye/ middle of forehead
throat
heart/ center of chest
solar plexus/ upper stomach
sacral center/ lower stomach
root/ hips and base of tailbone
knees (you can beam the Reiki to your knees if it is uncomfortable to hold)
feet (you can beam the Reiki to your feet if it is uncomfortable to hold)
physical, mental, emotional and spiritual growth
release of deeply held emotions
newly found self love
increased attitude of gratitude