Anecdotal Evidence: Reiki Helps a Struggling Baby Sleep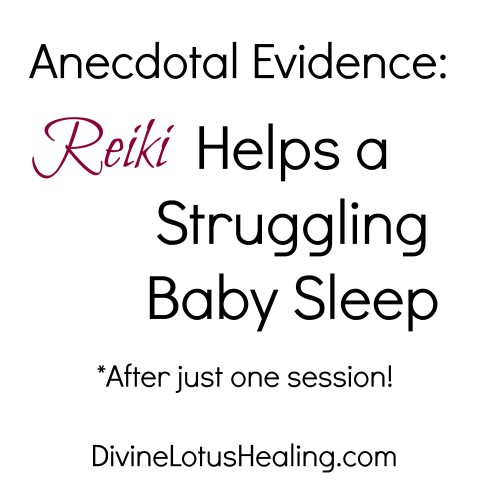 LISTEN TO THE PODCAST HERE ON THE BLOG:
LISTEN TO THE PODCAST IN iTUNES (While there, please be sure to leave a 5 star rating so others can find the podcast easily!):
READ THE BLOG POST:
I recently treated an infant and her mother with Reiki for some sleep issues the baby was having. She sat in her mother's lap while I tuned in with the Reiki around her body. As I scanned and beamed, insight flowed as to why the baby was not sleeping restfully for long periods at night. The whole process took about 20 minutes. Next, mom got a turn to receive the Reiki. She described it as feeling calm and peaceful afterwards.
Two weeks after the session mom emailed me with this update:
I came to Laura when my 4 month old was having trouble sleeping in her crib, in her own room, and sleeping in general! We had tried everything and hadn't slept in what felt like weeks! Whenever you notice some odd behaviour in your baby, such as baby showing an arched back, for example, you should never feel ashamed or embarrassed to seek some professional support in order to ensure your baby's best health. Laura was able to give us amazing insight into what our daughter was feeling and thinking. After her Reiki session she began sleeping in her crib all night! It was a difficult and emotional time for me. I was feeling exhausted and overwhelmed. Laura's calm, loving, and positive energy not only helped my baby but me as well. After our session I felt much more relaxed and less anxious about everything. We cannot say enough good things about Laura! We plan to come back many more times for continued healing and support. Laura is amazing!
Another great example of how Reiki can transform situations.