Spiritual Counseling & Biz Coaching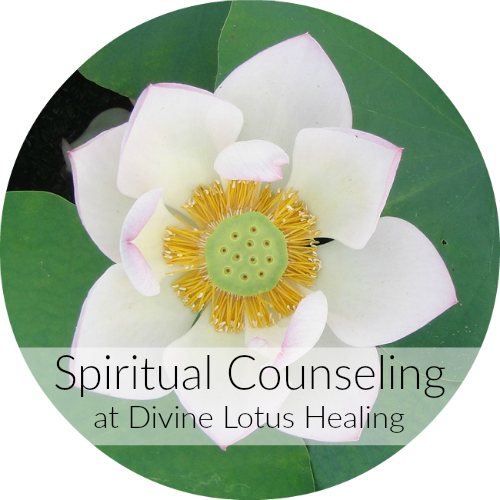 Are you a spiritual person seeking answers?
Are you on the brink of shifting to the "next level" in your personal life or spiritual business but don't know how to get there?
Are you a weary holistic healing business owner in need of better systems?
Are you tired of "the grind"?
Would having spiritual guidance help you get clear?
Are you ready to do the "big work" in your personal or business life?
Are you ready to unblock systems of unconscious pattern that hold you back?
Do you want to work more deeply with abundance mindset, growth mindset and positive mindset?
Do you seek supportive and loving guidance from the divine forces at work in your life?
Are you ready to do "the work" of your life and let go of limiting beliefs and old attachment energy?
Step onto a clear path…
Make clear choices…
Establish a clear connection…
Gain clear insight…
Shift into an uplifted, centered, secure, balanced, comfortable place.
I have found that through this work with clients several sessions in a row are beneficial to begin to re-route your path forward. Through these "touchstones" you will be provided with insight which can help you make clearer choices and better decisions around issues with which you may be struggling in your life. 
Who Benefits from Spiritual Counseling?
This work is for anyone seeking answers to big life or spiritual business issues, such as:
*career changes
*life coaching
*spiritual business startup
*spiritual business coaching
*relationship changes
*your soul's path and purpose in this life
*finding authentic joy
*grieving or loss
*psychic / intuitive opening
*transformation or major shifting in your life
*letting go of the past
*healing karmic clutter
*…and so much more!
As you may know from my bio, since birth I've been honored to be known as a psychic, medium and channel for the divine.
For over a decade in my holistic healing business, I have been honored to work within life's divine flow … connected to spirit and the sacred group of light beings who call themselves the Council of Light.
As a team with the Divine, I help people get clear.
I work mostly with spiritually woke individuals and holistic healing / spiritual business owners.
First Time Clients
Please read our policies in full HERE before you schedule your first session.
Please fill out the required digital First Time Client Intake Form when booking.
This will ensure your spot is reserved.
What to Expect During Your Spiritual Counseling Work
By asking clear, specific questions you set the tone and target of the work we will do together. For video sessions, I use Zoom video conferencing, which you can download for free onto your computer, tablet or smartphone. I will send you the video call link after you book your first session.
doTERRA essential oils are offered as a complimentary bonus during sessions for clients to enjoy.
If you choose, you may bring your own recording device to the session.
Tips to Get the Most Out of This Work
Intention is everything. Before we begin this work together, understand that the clearer you can be about the things you want to work on, the more specific the guidance will be in return.
Be open to the process. Honor whatever guidance comes through during the sessions.
Relax and have fun! Enjoy the process. Let what unfolds for you unfold naturally. Go with the flow and you will be surprised at how much more you get out of this process than you thought you would!
Free Channeled Messages
As a free service, and a way to show gratitude for my work with the Council of Light, I offer a once monthly free channeled message to the public at large. Podcasts can be heard here on my blog.
The most amazing experience, wisdom and vision from Laura. Words can't express my gratitude for her gift to the world.
-Tanya
My session with Laura West was truly unlike any other I have had. From the moment I walked in the door, I felt like I had entered a sacred space that had been thoughtfully prepared specifically for my visit. The messages from spirit, from my guides and Laura's guides came flowing out of her with such eloquence, grace, insight and compassion for the entirety of the session. My session with Laura was profoundly healing as well as validating and inspiring. I received answers to pressing questions along with clarity on choices I was previously hesitant to make. In addition, I felt blessed with a feeling of overwhelming love and support from spirit. I cannot recommend Laura West highly enough. She is a pure and clear channel who offers a beautiful space for wisdom, healing, clarity and true transformation to occur.
-Phara
Laura's psychic guidance is always insightful and meaningful. She often gives me messages from my mother, and I am left feeling loved like when I was a child. When I work with Laura, I know that I am tapping into deep yet subtle energies, making a profound connection with Spirit.
-Cory
Laura, Thanks for your help and insight! What you discovered was VERY accurate. Even kind of what I felt, but this was the needed extra added clarity I was hoping to find. I wish to say much more and express a greater thanks that I don't think can be encompassed in an email, but again, your help was very beneficial to me & very much appreciated!
-Roy
Thank you very much for another glorious session, Laura! So grateful for your energy and your crystal clear connection. Thank you so much for doing all of the work to rise so high and to be such a clear channel. It transforms so many of our lives!  Perpetual gratitude and blessings.
-Lauren
Having a session with you Laura was like talking to my higher self. It was very relaxing and deeply moving. All the information that came through had such strong love. It was like I was talking to myself in a mirror.
-Liz
When I saw your picture online there was something about you that I knew was real. You are the real deal. You know what you are doing and you are comfortable with yourself. You are so experienced. Not like other psychics who want more from you. You just let it be. I walk out of each session feeling lighter, more centered, more ME!
-Christian
Nourish Your Soul
You'll get my trained herbalist perspective on how to best use essential oils for your health,
Council of Light channeled messages, Reiki tips and wisdom (and more!) –
all delivered to your inbox, plus other subscriber-only resources you can't get anywhere else.