Join over 8 Million People Using doTERRA World Wide!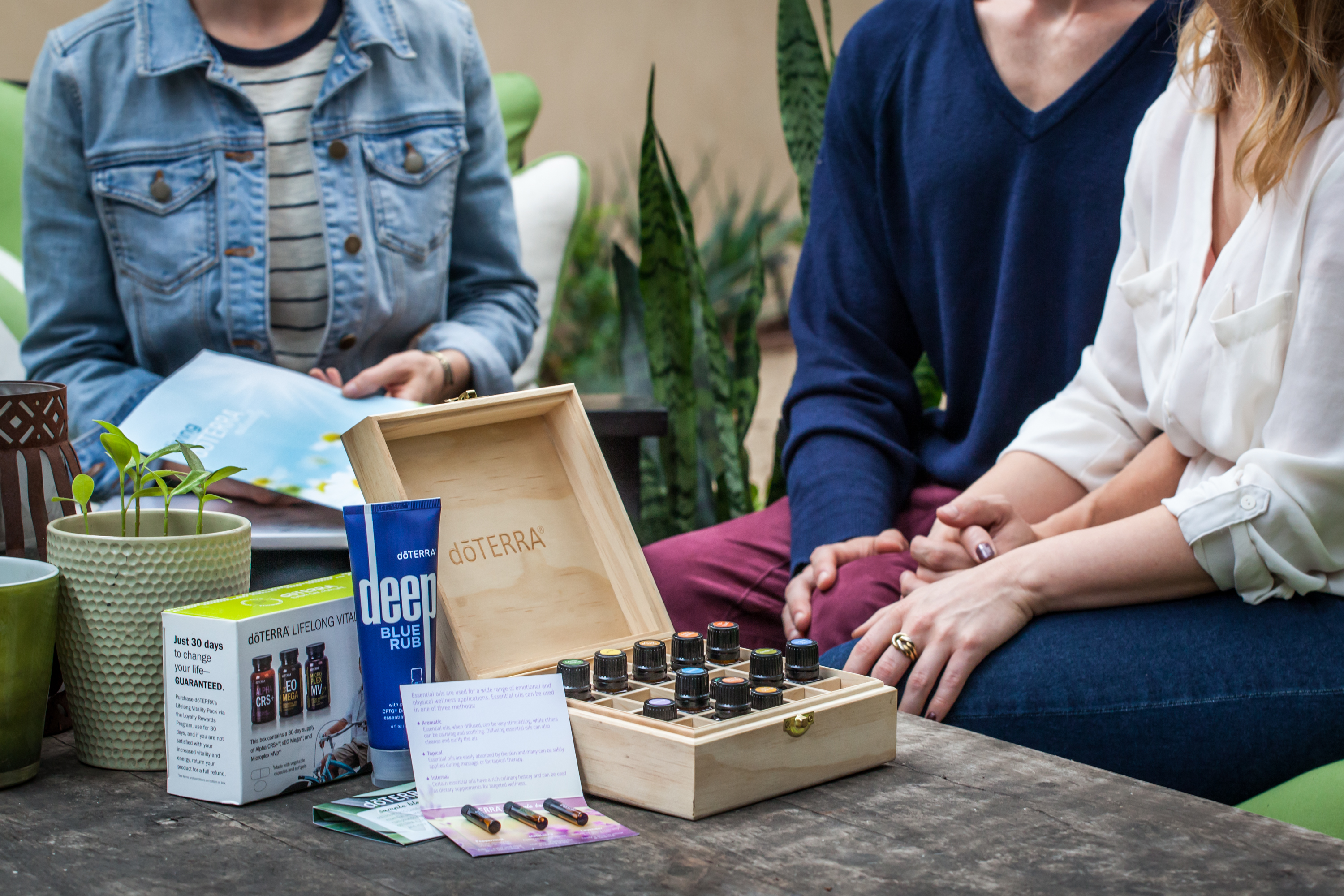 Are you looking for natural solutions for your family's wellness care?
Are you interested in using plant based solutions that work fast? Without side effects?
Do you seek a community of support that offers award winning online essential oil membership services?
As an herbalist, I know that using essential oils for my family's wellness care is the most potent form of natural medicine.
Essential oils are more potent than teas, tinctures & herbs.
1 drop of doTERRA peppermint oil = 28 cups of peppermint tea!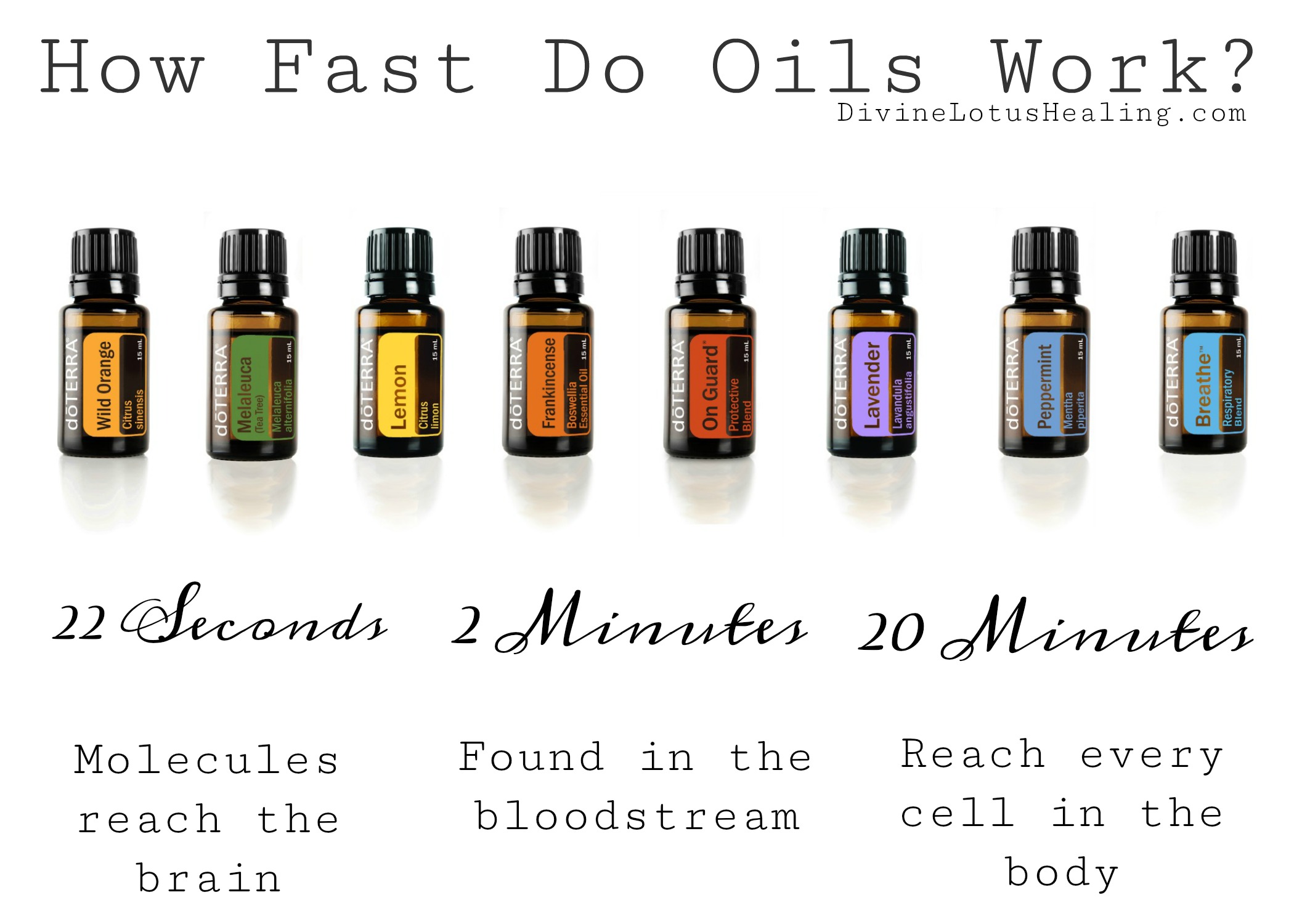 Science + Health Care
doTERRA Essential Oil wellness clinics, Prime Meridian, are being built in the USA!
Partnership with St. Elizabeth's Healthcare: doTERRA Center for Integrative Oncology
Clinical trials of essential oil dosing in western medicine – doTERRA EXCLUSIVE!
Highest Quality Oils World Wide
Sourced where they grow the best, in their natural environment
Harvested in eco friendly ways
Never over harvested
CPTG Certified Pure Therapeutic Grade®
100% PURE + third party tested to ensure they are the BEST of the BEST!
8 independent tests carried out on all oils
Source to You website with extensive EO information
No adulteration, fillers, additives, chemicals, perfumes, dyes, stabilizers – EVER.
Co-Impact Sourcing
Indigenous farmers, growers, harvesters + distillers make FAIR LIVING WAGES
No middle men, workers get paid DIRECTLY from doTERRA
Infrastructure is created + improved: schools, clean water facilities + medical centers are built at NO COST to the workers
Why Become a Member Through Laura West + Our Divine Lotus doTERRA Community? You get all these great perks for FREE! (over $1,000 value)
Two Week Oil Education Email Course ($250 value)
Essential Oil Reference Book Mailed to You ($30 value)
Welcome Gift Bag ($25 value)
Weekly Oil Education Live Calls + Complete Database of Past Calls ($250 value)
Members Only website ($300 value)
Members Only Private Facebook Group w/ Monthly Oils + Products Giveaway ($50-100 value each month)
Monthly EO Email Roundup + Text Alerts
Three Options:
Retail Price – Pay full price for oils.
Wholesale Membership – One time $35 membership fee.
Enjoy 25% wholesale discount on all oils and products.
Wholesale Starter Kit – waives the $35 membership fee by purchasing a starter kit.
With all three options, there is no requirement to sell or place a minimum monthly order.
Start with a Kit to Save the Most!
Buy a starter kit which includes the top 10 most used oils.
Wholesale pricing (25-55%) savings on all your oils all year
Discounted and free shipping options. 
Your $35 wholesale membership fee is WAIVED! 
Your kit will be priced BELOW wholesale value!
Free 30-min Wellness Consult to help you begin your oil journey
Natural Solutions Kit $570*
*wholesale price, saves $190 Popular with oil enthusiasts who want to get the top 10 oils and try some of the products. Gives you a little bit of everything!
This Kit Includes:
 Essential oils:
10 mL bottles:
PastTense®
15 mL bottles:
Lavender, Lemon, Peppermint, doTERRA On Guard®, Frankincense, Tea Tree, Wild Orange, doTERRA Balance®, DigestZen®, AromaTouch®, doTERRA Serenity®, doTERRA Breathe®
doTERRA On Guard® Collection:
doTERRA On Guard Beadlets, doTERRA On Guard Toothpaste, doTERRA On Guard Hand Wash with 2 Dispensers, doTERRA On Guard Mouth Wash, doTERRA On Guard Sanitizer Spray, doTERRA On Guard Softgels
Other Products:
doTERRA Lifelong Vitality Pack®, DigestZen TerraZyme®, Deep Blue® Rub, Fractionated Coconut Oil (4 oz), doTERRA Salon Essentials® Protecting Shampoo, doTERRA Salon Essentials® Smoothing Conditioner, doTERRA Lumo Diffuser, doTERRA Spa Hand & Body Lotion, Wooden Box, doTERRA Breathe® Vapor Stick, Correct-X®, PB Assist®+
Healthy Habits Kit $195*
*wholesale price, saves $65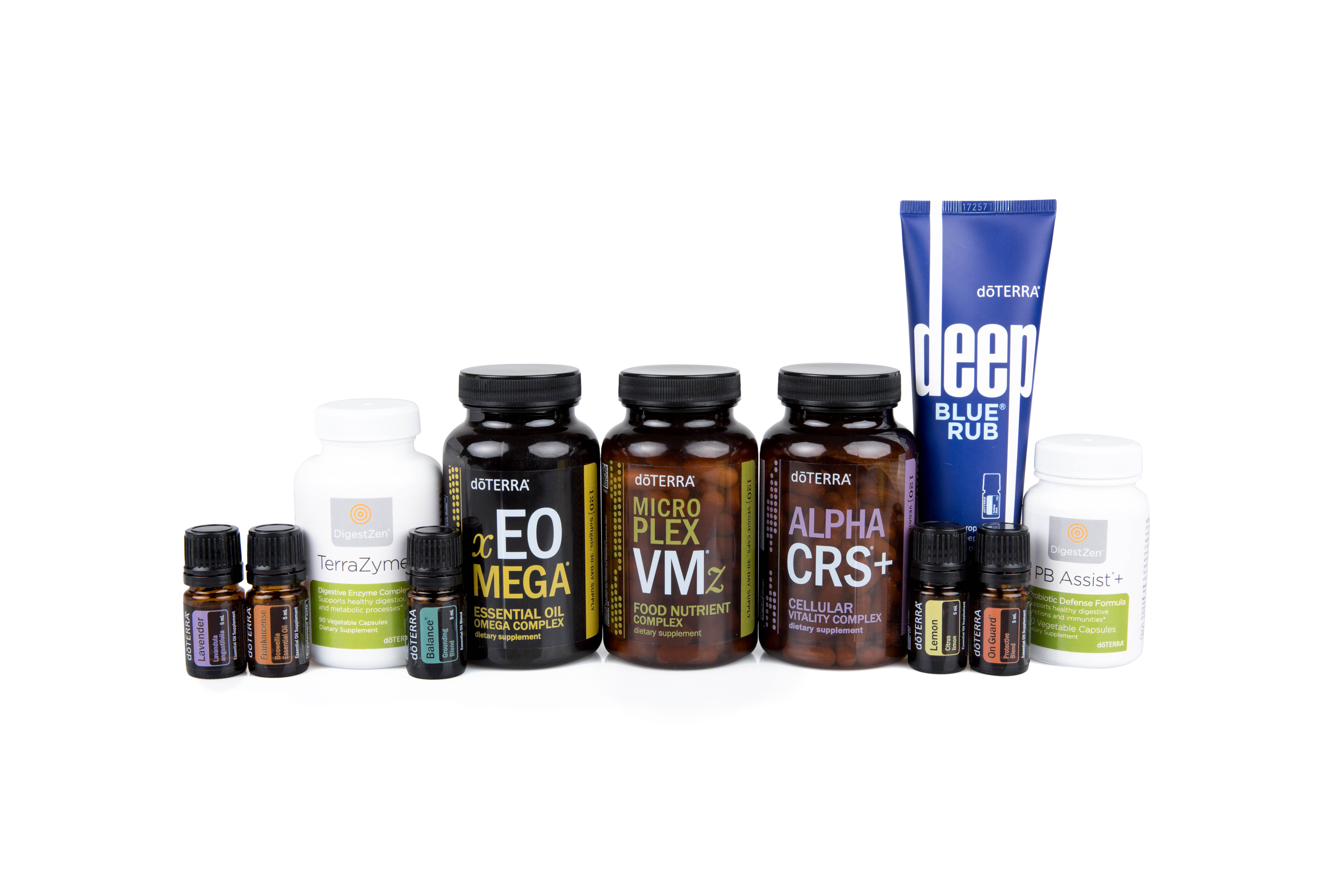 This kit includes products recommended for daily use in order to achieve and maintain a healthy lifestyle.
This Kit Includes:
doTERRA On Guard® (5 mL)— protects against environmental and seasonal threats with essential oils known for their positive effects on the immune system when ingested.*
doTERRA Balance® (5 mL)— creates a sense of calm and well-being, tranquility and relaxation.
Frankincense (5 mL)— supports healthy cellular, immune, nervous, and digestive function when used internally.* When inhaled or diffused, it promotes feelings of peace, relaxation, satisfaction, and overall wellness.
Lemon (5 mL)— provides cleansing and digestive benefits and supports healthy respiratory function.* When diffused, it is very uplifting and energizing and has been shown to help improve mood.
Lavender (5 mL)— calms and relaxes when taken internally. Add to bath water or apply to the temples and the back of the neck to reduce away stress. Use to assist with restful sleep and stress management.
Deep Blue® Rub—soothes and cools topically where needed before and after your workout.
doTERRA Lifelong Vitality Pack® includes xEO Mega®, Alpha CRS®+, Microplex VMz®— maximizes your daily nutrient intake.
DigestZen® Supplements includes DigestZen TerraZyme® and  PB Assist®+—supports digestion and optimizes your gastrointestinal tract*
*These statements have not been evaluated by the Food and Drug Administration. This product is not intended to diagnose, treat, cure, or prevent any disease.
Healthy Home Kit $350*
*wholesale price, saves $116.67 Non toxic cleaning and personal care essentials at your fingertips! Includes a diffuser!
This Kit Includes:
Essential Oils: 
Frankincense, Lavender, Lemon, Tea Tree, Oregano, Peppermint, doTERRA Breathe®, DigestZen®, doTERRA On Guard®, Deep Blue® ( 5mL)
On Guard® Products:
doTERRA On Guard® Sanitizing Mist
doTERRA On Guard®  Cleaner Concentrate
doTERRA On Guard® Foaming Hand Wash
doTERRA On Guard® Foaming Hand Wash Dispenser
doTERRA On Guard® Natural Whitening Toothpaste
Other Products:
Brevi Stone Diffuser
Protecting Shampoo
Smoothing Conditioner
Healthy Start Kit $160*
*wholesale price, saves $53.33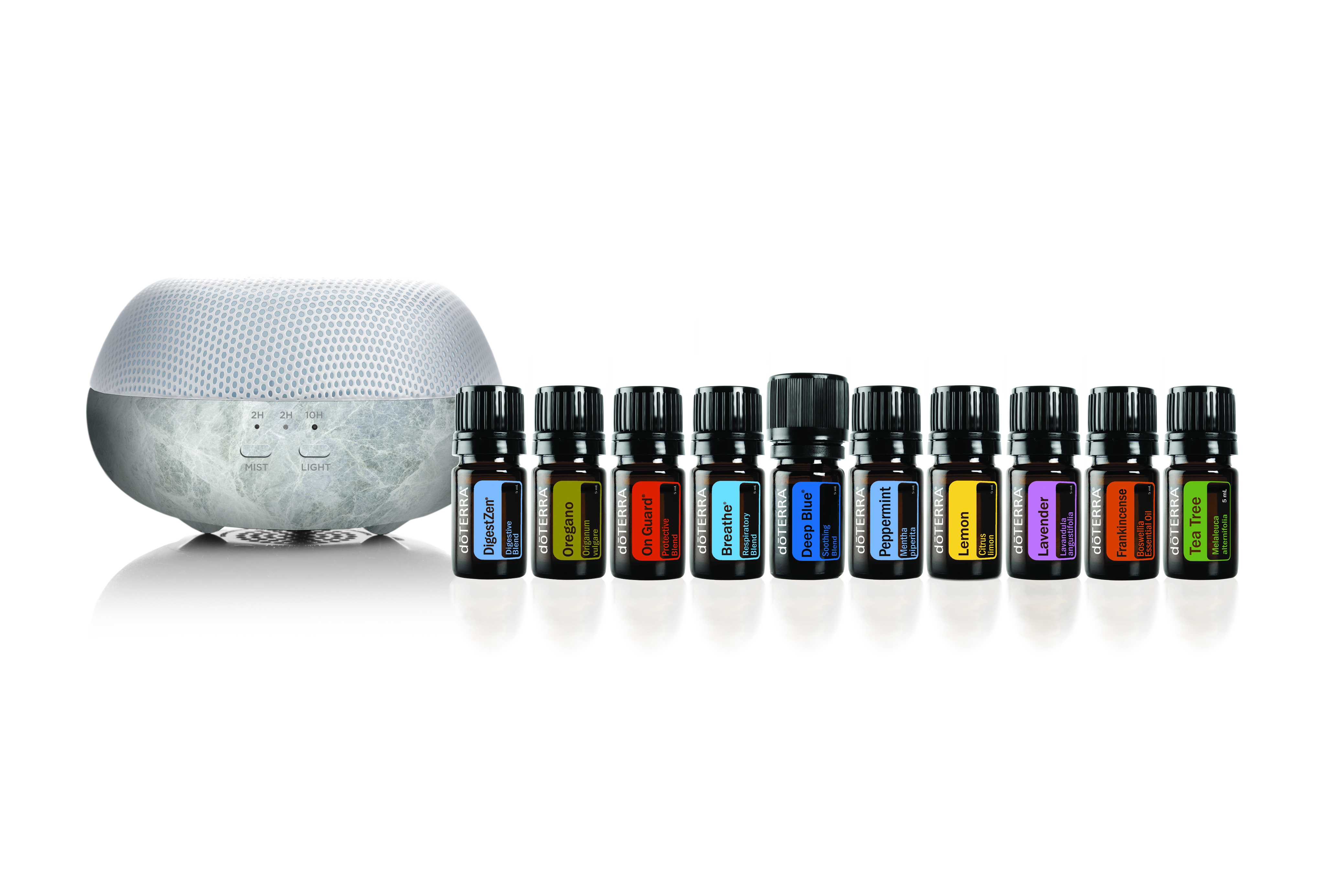 Budget Friendly. Mini-Starter Kit, Comes WITH a diffuser!
This Kit Includes:
Family Essentials Kit: (5 mL bottles)
Lavender, Lemon, Peppermint, Tea Tree, Oregano, Frankincense, Deep Blue®, doTERRA Breathe®, doTERRA On Guard®
Other Products:
Brevi® Stone Diffuser
Simple Solutions Kit $105*
*wholesale price, saves $35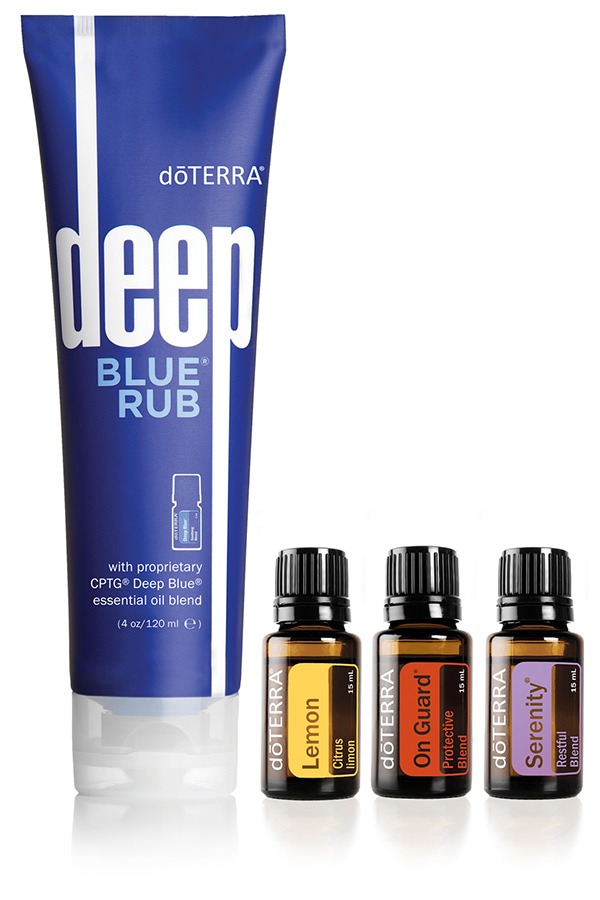 The simplest way for you to enjoy the benefits of a few of dōTERRA's favorite Essential oils, blends and personal care products.
This Kit Includes:
Lemon 15 mL doTERRA On Guard® 15 mL doTERRA Serenity® 15 mL doTERRA® Deep Blue Rub
What to do after you buy your enrollment kit:
Q & A :
Am I locked in to monthly spending when I enroll in a Wholesale Membership with doTERRA?
No, When you enroll in a Wholesale Membership, that is it.
Spend any amount each month, with no limits to get 25% off oils and products. No monthly fees. There is an annual membership renewal fee of $25 and it comes with a FREE bottle of Peppermint, one of doTERRA's best selling oils.
Can I buy doTERRA essential oils outside the USA?
Yes! You can live almost anywhere in the world and buy doTERRA products. Many countries outside the USA are open markets. Please check with doTERRA help services first before enrolling!
How can I waive the $35 Membership Enrollment Fee?
When you sign up for a wholesale membership, you can waive the $35 enrollment fee by purchasing an ENROLLMENT KIT.
If I enroll in Wholesale Membership, do I have to sell doTERRA products?
No. If you are not interested in selling doTERRA products, you will enroll as a Wholesale Customer. If you decide later on to become a wellness advocate (like me) you can upgrade your account to Wellness Advocate. If you know right from the start you want to purchase products for yourself and you want to share the oils and make money, then choose Wellness Advocate. There is no obligation to become a Wellness Advocate, but if you do eventually decide to do this, the wholesale membership comes with a free business website and all kinds of back end marketing and sales support resources – PLUS – our leadership team that will hold your hand every step of the way!
Become an Insider!
Sign up to receive my Divine Lotus Healing updates + promos.
Plus, get subscriber only bonuses you can't find anywhere else!